Development of a social media marketing plan : Case study Superson Oy
Laiho, Henrika (2020)
---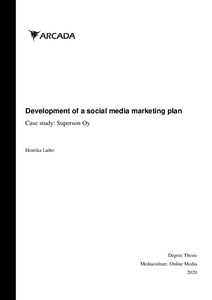 2020
All rights reserved. This publication is copyrighted. You may download, display and print it for Your own personal use. Commercial use is prohibited.
Julkaisun pysyvä osoite on
http://urn.fi/URN:NBN:fi:amk-2020052915033
Tiivistelmä
Kyseinen opinnäytetyö on kirjoitettu toimeksiantona Superson Oy:lle, joka on keskisuuri markkinointiviestintätoimisto. Supersonin kaksi toimistoa sijaitsevat Helsingissä ja Singaporessa. Tutkimuksen tavoite oli kehittää operatiivinen sosiaalisen median suunnitelma ymmärtämällä yrityksen uniikkia yritysmallia. Tutkimus vastasi kysymykseen "Kuinka tuottaa yhtenäistä ja laadukasta sosiaalisen median sisältöä Supersonin yritysmallille?" ja se toteutettiin tapaustutkimuksena. Tutkimuksen rajoituksena oli selittää ainoastaan, kuinka luoda sisältöä yrityksen sosiaalisen median kanaviin, poissulkien maksetun mainonnan sosiaalisissa medioissa. Kvalitatiivinen tutkimus toteutettiin osallistuvana havainnointina, tutkimuksen laatijan ollessa työllistettynä tapaustutkimuksen yrityksen johdosta. Kvantitatiivinen tutkimus perehtyi tapaustutkimusyrityksen kilpailijoihin sekä menestyneiden sisältöjen aiheisiin. Havainnointi ja analyysi kohdistuivat tapaustutkimuksen yrityksen yritysmalliin ja operaatioihin. Teoreettinen viitekehys koostui sosiaalisen median ymmärtämisestä, miten sosiaalisen median markkinointi positioituu verrattaessa perinteiseen markkinointiin, ja kuinka rakentaa operatiivinen sosiaalisen median suunnitelma keskisuurelle yritykselle ottaen huomioon sen yritysmalli. Tutkimus havainnollisti mitä osatekijöitä keskisuurten B2B-yritysten tulee ottaa huomioon luodessaan sosiaalisen median suunnitelmaa. Osatekijät sisälsivät analyysin sosiaalisen median käytön nykytilanteesta, kohderyhmien määrittelyn, kanavavalinnat, äänensävyn sekä sisältötyyppien määrittelyn.
This bachelor thesis was commissioned by Superson Oy, a medium-sized marketing and communications agency operating in Helsinki and Singapore. The objective was to create an operational social media plan through understanding the company's unique business model. The addressed research question for this bachelor's thesis was: How to produce cohesive and quality Social Media content for Superson's business model? The research was conducted as a case study. The limitations of this thesis are to exclusively explain how to craft a social media plan for a business, excluding paid advertising on social medias. The qualitative research was conducted by participating observation, as the author is employed by the case company. The quantitative research studied the case company's competition and well-performing content topics. The observations and analysis were directed towards the case company's business model and operations. The theoretical framework consisted of understanding what are social medias, where social media marketing stands in comparison to traditional marketing, and how to build an operational social media plan for a medium-sized business taking into consideration the company's business model. The research demonstrates which factors a medium-sized business-to-business company should take in to consideration when establishing a social media plan. These factors include a situation analysis of the current state of social media usage in the company, defining goals and resources for using social medias, defining targets groups, selection of channels, and the definition of tone of voice and content types.
Detta examensarbete var ett projekterat examensarbete för Superson Oy, ett mellanstort marknadsförings- och kommunikationsföretag. Företagets byråer ligger i Helsingfors och Singapore. Undersökningens syfte var att skapa ett operationell social media plan genom att förstå företagets företagsmodell. Forskningsfrågan för denna studie var följande: Hur producerar man sammanhängande och kvalité innehåll för Supersons företagsmodell? Undersökningen utfördes som fallstudie. Begränsningar för studiet var att endast förklara hur skapas ett social media plan för ett företag. Betalda reklamer uteslöts ur studien. Den kvalitativa undersökningen utfördes som deltagande observation på grund av att författaren är anställd av företaget på uppdragsavtal som marknadsförings- och kommunikationsproducent. Den kvantitativa undersökningen studerade fallstudieföretagets konkurrens och tidigare innehåll som kan anses vara vällyckat. Observationen och analyserna var riktade mot fallstudieföretagets företagsmodell och operationer. Intervjuer med vissa centrala anställda var utfört som stöd att förstå företagsmodellen och företagets önskemål bättre. En SWOT analys utfördes för att kunna förstå företagets styrkor, svagheter, möjligheter och hot. Teoretiska ramverket bestod av att förstå vad är sociala medier, var sociala medier står jämfört med traditionell marknadsföring, presentation av populära social media kanaler och hur man bygger ett fungerande social media plan för et mellanstort företag, medan man tar i hänsyn företagets företagsmodell. Undersökningen förevisar vilka faktorer ett mellanstort business-to-business företag borde ta i beaktandet när ett social media plan byggs. Dessa faktorer innebär situations analys gällande existerande omständigheter och företagets användning av sociala medier, definiering av målsättning, och resurser, definiera målgrupper och -segmenten, val av lämpande kanaler, och definition av tonalitet och innehållstyper. Samarbetsprocessen som skapades för social media planet testades som kollaborativt skapande.
Kokoelmat