Den upplevda arbetshälsan och arbetsvälmåendet bland chefer inom hemvården i Finland - En studie inom NURED-projektet
Grotell, Maria (2020)
---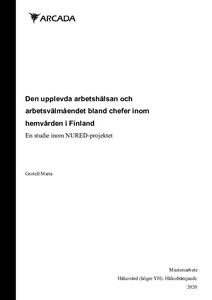 2020
All rights reserved. This publication is copyrighted. You may download, display and print it for Your own personal use. Commercial use is prohibited.
Julkaisun pysyvä osoite on
https://urn.fi/URN:NBN:fi:amk-2020061618864
Tiivistelmä
Sammandrag:
Situationen för hemvården i Finland har en längre tid beskrivits som allt sämre: klienterna blir ständigt fler, medan det samtidigt är svårt att locka personal. Det EU-finansierade NURED-projektet 2016-2019 utvecklade en ny studiehelhet inom hemvårdslära för sjukskötestuderanden inom Baltikum. Inom NURED-projektet utfördes i Finland som en del av bakgrundsforskningen fokusgruppsintervjuer bland chefer inom hemvården angående deras upplevda arbetshälsa och arbetsvälmående, eftersom ledarskap kan konstateras vara en nyckelfaktor gällande bägge, samt gällande hälsofrämjande åtgärder på arbetsplatser. Dessa intervjuer utgör det material som analyserats för detta mastersarbete med abduktiv ansats. Syftet med mastersarbetet är att utreda upplevelsen av vilka faktorer som är viktiga för arbetshälsan och arbetsvälmåendet för cheferna inom hemvården i Finland, samt hur denna kunskap kan bidra till en ökat hälsofrämjande arbetsplats. Som teoretisk referensram används "WHO Healthy Workplace Model: Avenues of Influence, Process and Core Principles" (Burton 2010), där det konstateras att en hälsosam arbetsplats utgörs av den fysiska arbetsmiljön, den psykosociala arbetsmiljön, de personliga hälsoresurserna i arbetet samt företagets samhällsengagemang. I analysprocessen formades sammanlagt 7 överkategorier som innehåller faktorer som upplevs bidra till chefernas hälsa inom hemvården i Finland: fysiska faktorer (hemvårdens arbetsmiljö, fysisk aktivitet under arbetsdagen), personliga hälsohandlingar (hälsosamma levnadsvanor, balans mellan arbete och fritid), personlig hälsomentalitet (det egna förhållningssättet, attityd och inställning, positivitet), planering & organisering (ledarskap och handledning, klara förväntningar, arbetets flyt), relationer inom arbetet (arbetskamrater och kolleger, kommunikation och öppenhet, samarbete och stöd), motiverande faktorer (att hjälpa andra, utmaningar, utveckling, feedback), arbetshälsovård samt betydelsen av hemvårdsarbetet. Likaså formades tre kategorier som speciellt belastade chefernas arbetshälsa och arbetsvälmående: ohälsa bland personal, stress och inkonsekventa handlingar. På basen av de faktorer som bidrar till chefers arbetshälsa och arbetsvälmående inom hemvården i Finland kan hälsofrämjande åtgärder på arbetsplanen planeras och förverkligas. Likaså kan man genom att försöka motverka de faktorer som belastar chefers arbetshälsa och arbetsvälmående nå en hälsofrämjande effekt.
Abstract:
The situation for home care nursing in Finland has for a long time been described as worsening: the amount of clients is increasing, while it simultaneously is difficult to attract staff. The EU-funded NURED project 2016-2019 developed new curriculas for home care nursing students in the Baltic Sea Region. Within the NURED project focus group interviews were conducted among home care managers regarding their perceived occupational health and well-being, as part of the background research in Finland. Leadership is considered to be a key factor regarding both occupational health and well-being, as well as regarding conducting health promotion measures in workplaces. These interviews were analyzed for this thesis with an abductive approach. The purpose of the master's thesis is to investigate the experience of the factors that are important for occupational health and well-being for home care managers in Finland, and how this knowledge can be used to achieve a health-promoting workplace. The theoretical frame of reference is the "WHO Healthy Workplace Model: Avenues of Influence, Process and Core Principles" (Burton 2010), which states that a healthy workplace consists of the physical work environment, the psychosocial work environment, personal health resources at work and the company's social commitment. In the analysis process, a total of 7 subcategories were formed that contain factors that managers feel contribute to their occupational health and well-being in Finland: physical factors (home care work environment, physical activity during the working day), personal health actions (healthy living habits, work-life balance), personal health mentality (own approach, attitude and frame of mind, positivity), planning & organizing (leadership and supervision, clear expectations, work flow), relationships (workmates and colleagues, communication and openness, cooperation and support), motivating factors (helping others, challenges, development, feedback), occupational health care as well as the importance of home care work. Similarly, three categories were formed that particularly burden the managers' occupational health and well-being: ill-health among staff, stress and inconsistent actions. Health promoting measures in the workplace can be planned and implemented based on these factors that contribute to managers' occupational health and well-being in home care in Finland. Similarly, by trying to counteract the factors that burden managers' occupational health and well-being a health-promoting effect can be achieved.
Kokoelmat