En person - två problem : en kvalitativ studie om missbrukare och deras upplevelse av dubbelproblematik
Råholm, Tia; Paxal, Rebecca (2020)
---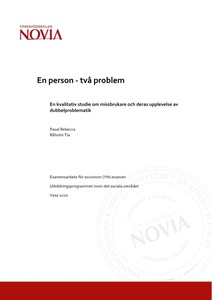 Råholm, Tia
Paxal, Rebecca
2020
All rights reserved. This publication is copyrighted. You may download, display and print it for Your own personal use. Commercial use is prohibited.
Julkaisun pysyvä osoite on
https://urn.fi/URN:NBN:fi:amk-2020062319247
Tiivistelmä
Syftet med denna studie var att undersöka hur missbrukare har upplevt dubbeldiagnostik och hur de anser att psykisk ohälsa och missbruk påverkar varandra.
Enligt teorin går missbruk och psykisk ohälsa hand i hand med varandra och det är svårt att avgöra vad som orsakades av vad. Men det finns kunskap om olika kombinationer och statistik. Vi har därför valt att förutom begreppet dubbeldiagnos, studera begreppen psykisk ohälsa och missbruk, men även olika former av dem.
Ett stort antal missbrukare lider i något skede av psykisk ohälsa, och det är svårt att avgöra ett exakt antal eftersom många förblir odiagnostiserade. Det är även viktigt att de får den vård de behöver och inte bara behandlas för ett av deras problem.
Undersökningen har gjorts genom kvalitativa forskningsintervjuer med missbrukare i Österbotten. Resultatet av vår undersökning visar att alla av respondenterna har upplevt dubbeldiagnos men på olika sätt. I undersökningen framkom det att respondenterna har
olika synpunkter på vården som erbjuds.
The purpose of this study was to examine how addicts experience comorbidity and how mental health and addiction correlates according to them.
According to previous research, addiction and mental health are correlates, and it is difficult to determine what was caused by what. But there is knowledge about different combinations and statistics. Therefore, we have chosen to study not only the concept comorbidity, but also mental health and addiction, and different forms of them.
A large group of addicts suffers at some point from mental illness, and it is difficult to determine how many, due to the large number of people that remain undiagnosed. It is also significant that they get the care they need and for both of their problems and not only one.
The study was conducted by means of qualitative interviews with addicts in Ostrobothnia. The result of our study shows that all the respondents have suffered from comorbidity but in different ways. Our study demonstrated that the respondents have different views on the care that´s being offered.
Kokoelmat