Familjedagvårdare - att vara eller inte vara : en studie om orsakerna till varför familjedagvårdaren slutar att vårda barn i sitt hem
Kivimäki, Heidi (2011)
---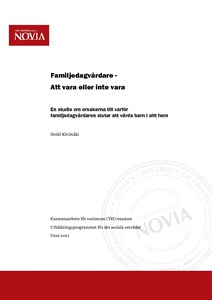 Yrkeshögskolan Novia
2011
All rights reserved
Julkaisun pysyvä osoite on
http://urn.fi/URN:NBN:fi:amk-2011110414257
Tiivistelmä
Syftet med detta examensarbete är att ta reda på vilka erfarenheter och åsikter före detta familjedagvårdare har om yrket samt varför de slutat att vårda barn i sitt hem. Med hjälp av min undersökning vill jag ta reda på om det finns någon speciell orsak till detta.
I den teoretiska delen kommer det fram hur familjedagvården uppstod i Finland och hur familjedagvården ser ut idag. Den teoretiska delen handlar även om dagvårdssystemet i Finland och om professionalitet inom dagvården. Familjedagvårdarnas arbetstid är något som för en kort tid sedan har ändrats.
För att få en uppfattning om hur det är att arbeta som familjedagvårdare har jag gjort en kvalitativ studie i form av intervjuer. Jag har intervjuat sex kvinnor som har arbetat som familjedagvårdare och som sedan slutat. Svaren har tolkats i den empiriska delen av studien.
Resultaten visar att det finns ett antal faktorer som kan bidra till att en familjedagvårdare slutar att vårda barn i sitt hem. Familjeförhållandena spelar en stor roll i yrket eftersom arbetet sker i familjens gemensamma hem. Arbetet är väldigt självständigt och det är viktigt att få stöd av familjedagvårdsledaren. Arbetet påverkar även familjedagvårdarens fritid.
The purpose of this thesis is to find out which experiences and opinions the family child carer has about the work and why the family child carer quits taking care of children in her/his own home. With the help of my study I want to find out if there is any particular reason for this.
The theoretical part is about the development of the family child care in Finland and what it looks like today. The theoretical part is also about the day care system in Finland and about professionality within day care. The working hours of the family child carer are something that has changed recently. I have done a qualitative study using interviews as a method. In order to achieve knowledge about the work as a family child carer I have interviewed six women that have worked as family child carers and then quit. The answers have been read in the empirical part of the study.
The results show that there are a number of factors that can contribute to why a family child carer quits taking care of children in her/his home. Family relationships play a major part in the occupation because the working place is the family's common home. The work is very independent and it's important to get support from the family child carer leader. The work also affects the family child carer's spare time.
Kokoelmat