Huom! Theseus-tuen yhteydenotto on poissa käytöstä teknisten huoltotöiden takia 11.–15.10.2019. Ongelmatilanteessa ota yhteyttä oman ammattikorkeakoulun kirjastoon. Attention! Theseus Support e-mail is out of use 11.–15.10.2019. In case of problems please contact your own UAS Library. OBS! Theseus Support e-post är ur användning 11.–15.10.2019. Om du har problem, vänligen kontakta ditt eget UAS-bibliotek.
Alternative smertelindringsmetoder i fødsel : En litteraturstudie over effektene av alternative ikke-farmakologiske metoder
Tønnessen, Annja (2011)
---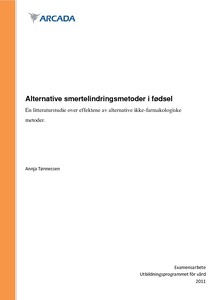 Arcada - Nylands svenska yrkeshögskola
2011
All rights reserved
Julkaisun pysyvä osoite on
http://urn.fi/URN:NBN:fi:amk-2011111414543
Tiivistelmä
Dette eksamensarbeidet omhandler alternative ikkefarmakologiske smertelindringsmetoder brukt på kvinner under fødsel. Hensikten med studien er å finne vitenskapelige bevis for att alternative ikkefarmakologiske metoder har en smertelindrende effekt, hvilke metoder som er bevist effektive og hvilke andre effekter det er funnet bevis for. Sekundære hensikter er å undersøke om bruk av ikkefarmakologiske alternative smertelindringsmetoder kan være med på å redusere behovet for og bruken av farmakologiske smertelindringsmetoder for kvinner i fødsel. Problemstillingen er: "Hvilke vitenskapelige bevis finnes det for effekter av ikkefarmakologiske alternative smertelindringsmetoder brukt i fødsel?". Metoden som er blitt brukt i denne studien er en litteraturstudie med en kvalitativ induktiv innholdsanalyse av 12 kvalitative og kvantitative forskningsartikler etterfulgt av kategorisering og tematisering av resultatet som blir drøftet i lys av den teoretiske referanserammen og egne tanker og erfaringer. Som en teoretisk referanseramme er det anvendt jordmorteori, ICMs og WHOs prinsipper og anbefalinger, teori fra lærebøker om smerte, smertefysiologi og fødselssmerter, faktorer som kan påvirke fødselssmerten og behovet for smertelindring, smertelindring ved fødsel av farmakologiske og ikkefarmakologiske metoder. Resultatet var at metodene akupressur, Avlsapning, muskelavslappende metoder, massasje, hydroterapi, steriltvannspapler, respiratoriske, bevegelse, stillingsendring og hypnose var vitenskapelig beviste effektive som smertelindring. Lovende metoder som smertelindring var akupunktur og TENS som det kreves mer forskning om. I tillegg kom det frem resultater om at flere alternative metoder forkortet fødselens tid, virket progressivt for fødselsforløpet, førte til redusert bruk av farmakologisk smertelindring, forbedret kvinners fødselsopplevelse, kvinners følelse av tilfredshet, kontroll, integritet og autonomi. Konklusjonen var at ved bruk av alternative ikke-farmakologiske metoder under fødsel støtter demedikalisering og styrker fødselsprosessen som en naturlig hendelse, også i forhold til ICMs og WHOs prinsipper og anbefalinger om god og ønskelig fødselsomsorg som jordmødre skal arbeide etter. Alternative ikkefarmakologiske metoder kan med fordel bli brukt som smertelindringsmetoder på fødeavdelinger. Mer forskning behøves om de metodene som ble betegnet som lovende metoder.
This degree thesis deals with alternative non-pharmacological pain relief methods used on women during childbirth. The purpose of this study is to find scientific evidence to back alternative nonpharmacological methods has an analgesic effect, which methods are proven effective and what other effects there was found evidence on. Secondary objectives are to investigate the use of non-pharmacological alternative pain relief methods if it can help to reduce the need for and use of pharmacological pain relief methods for women in childbirth. The research question in this study is: "What scientific evidence exists for effects of non-pharmacological alternative pain relief methods used in birth?". The method that has been used in this study is a literature study with a qualitative inductive content analysis of 12 qualitative and quantitative research articles, followed by categorization and putting into terms the results, which are further on discussed in light of the theoretical frame of reference and my own thoughts and experiences. As a theoretical framework is applied to midwifery theory, ICMs and WHO principles and recommendations, theory from textbooks on pain, pain physiology and childbirth pain, factors that can affect childbirth pain and the need for pain relief, pain relief at the birth of pharmacological and nonpharmacological methods. The result was that the methods acupressure, relaxing, musclerelaxing techniques, massage, hydrotherapy, injection of sterile water, respiratory-techniques, movement, position changes and hypnosis was scientifically proved effective as pain relief. Promising methods was acupuncture and TENS as it requires more research on. In addition, the present results showed several alternative methods shortened the time of birth, also seeming progressively to birth sequence, leading to reduce the use of pharmacological pain relief, improved women's birth experience, women's sense of satisfaction, control, integrity and autonomy. The conclusion was that the use of alternative non-pharmacologic methods of labor support the non-pharmacological birth practice, and strengthens the birth process as a natural event, also in relation to the ICMs and the WHO principles and recommendations of a good and desirable birth care as midwives to work for. Alternative non-pharmacological methods may advantageously be used as pain relief methods on maternity wards. More research is needed on the methods that were described as promising methods.
Kokoelmat