Impacts of a Care Robotics Project on Finnish Home Care Workers' Attitudes towards Robots
Rantanen, Teemu; Leppälahti, Teppo; Porokuokka, Jaakko; Heikkinen, Sari (2020)
---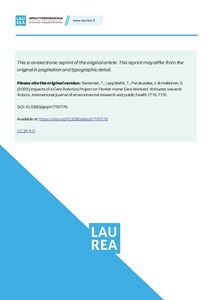 Rantanen, Teemu
Leppälahti, Teppo
Porokuokka, Jaakko
Heikkinen, Sari
MDPI
2020
Julkaisun pysyvä osoite on
http://urn.fi/URN:NBN:fi-fe2020101684254
Tiivistelmä
Technological advances in elderly care have been rapid, and the introduction of robots in
care will be a topical issue in the near future. There has been little research into the possibility of
influencing care workers' attitudes towards robots by project activities, and how to make the change
easier for work communities. This study focuses on a robotics project that took place in elderly and
home care services in one municipality in Finland (total of 45 care workers). During the project,
four robotics workshops and one extended pilot session were implemented. The study follows
quasi-experimental settings, and it included two measurements (before and after project activities)
and a control group, but no randomization. The data were collected by questionnaires and were
analyzed statistically. The project under study brought about minor positive changes in home care
workers' attitudes towards the usefulness of care robots. In the final measurement, the di erence
between the test group and the control group was significant in the two dimensions of positive
attitudes. The research supports the hypothesis that project activities can be used to influence home
care workers' attitudes towards robots. This can also facilitate the introduction of care robots in
home care services. However, the construction of a technology-positive care culture is a long-term
process, which requires training and development, technological development and strong strategic
management at various levels.
Kokoelmat