"Sluta med blommor och bin!" : En kvalitativ studie om unga vuxnas uppfattningar kring den sexualundervisning de fått i grundskolan
Berggren, Ellinor (2020)
---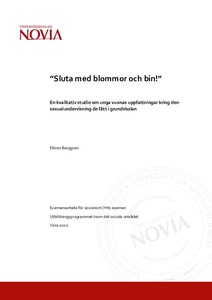 2020
All rights reserved. This publication is copyrighted. You may download, display and print it for Your own personal use. Commercial use is prohibited.
Julkaisun pysyvä osoite on
http://urn.fi/URN:NBN:fi:amk-2020111823261
Tiivistelmä
Syftet med mitt examensarbete är att undersöka unga vuxnas uppfattningar och tankar kring den sexualundervisning de själva fått i grundskolan. De centrala frågeställningarna är följande: Hur upplevde unga vuxna sin sexualundervisning? Anser unga vuxna att sexualundervisning är viktigt? Hur upplevde unga vuxna lärarnas attityder kring ämnet?
I teoridelen behandlas teman så som sexualitet, sexuell hälsa, sexuell identitet, ungdomars utvecklingsutmaningar och ungdomars attityder gentemot sexualitet. I teoridelen beskrivs också varför sexualundervisning behövs, vad sexualundervisningen i Finland grundar sig på, hur grunden för läroplanen ser ut och hur man kan tänka som vuxen då man undervisar i sexualundervisning.
Jag har utfört en kvalitativ undersökning med hjälp av en online-enkät med öppna frågor. I undersökningen deltog 14 respondenter i åldern 20 – 25 år. I undersökningen framkom att alla respondenter tycker att sexualundervisning är ett viktigt ämne men att ingen av respondenterna är nöjda med den sexualundervisning de själva fått i grundskolan. Respondenterna anser att de skulle ha velat ha mer djupgående undervisning och att de inte fick tillräcklig information om olika preventivmedel, sexuella trakasserier, olika sexualiteter, fertilitetsmetoder och betydelsen av kommunikation mellan partners. De flesta respondenter anser att deras lärare hade bra attityder gentemot sexualundervisningen men att lärarna själva var obekväma i att hålla lektioner eller att lärarna inte hade tillräckligt med tid för att gå djupare in på ämnet.
The purpose of my thesis is to examine young adults' opinions regarding the sexual education they received in primary school. The main questions include young adults' experiences of sexual education, whether they believe sexual education is an important subject and how they experienced the teachers' attitudes surrounding the subject.
In the theory segment I discuss themes such as sexuality, sexual health, sexual identity, the adolescents' developing challenges, and adolescents' attitudes toward sexuality. Subjects such as the necessity and foundation of sexual education in Finland, the basis of the educational curriculum and thoughts on how to reflect as a teacher teaching this subject are also discussed in the theory segment.
I have carried out this qualitative study by means of an online survey consisting of openended questions. 14 respondents aged 20 - 25 years participated in the survey. The study showed that all respondents believe sexual education to be an important subject, but none of the respondents were content with the sexual education they received in primary school. The respondents stated that they would have wished for more comprehensive education and believe that they didn't receive enough information about contraceptives, sexual harassment, different sexual orientations, fertility methods and the importance of communication between partners. A majority of the respondents think that their teachers had good attitudes regarding the subject of sexual education, but found that the teachers felt uncomfortable giving the lessons. The respondents also found that teachers suffered from time constraints and therefore couldn't attend to the subject in a profound enough manner.
Kokoelmat