"Jag tror i alla fall att jag vet vem jag är" : En kvalitativ studie om hur identitetsutvecklingen hos unga kvinnor med invandrarbakgrund påverkas av multikulturalism
Broo, Fanny (2020)
---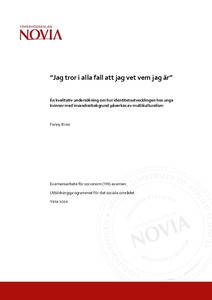 2020
All rights reserved. This publication is copyrighted. You may download, display and print it for Your own personal use. Commercial use is prohibited.
Julkaisun pysyvä osoite on
http://urn.fi/URN:NBN:fi:amk-2020111923378
Tiivistelmä
Syftet med mitt examensarbete är att se på hur identitetsutvecklingen hos unga kvinnor med invandrarbakgrund påverkas av att leva i fler än en kultur. De centrala frågeställningarna för undersökningen är:
Vad påverkar (den kvinnliga) identitetsutvecklingen?
Kan man uppnå en stark identitet även vid multikulturalism?
Kan man behålla sin ursprungliga kultur trots att man tvingas anpassa sig till en ny?
I teoridelen behandlas begreppen identitet och kultur. Mera djupgående på vartdera begreppet finns identitetsbyggandet och vad som kan påverka detta samt olika kulturideologier och hur dessa fungerar i praktiken. I teorin tas också teoretiska aspekter upp på vartdera begreppet.
Metoden för undersökningen är kvalitativ. Till undersökningen söktes respondenter som var i åldern 15–30 år, som var av kvinnligt kön, som hade bott i Finland i minst 1 år och som invandrat tillsammans med sin familj. Undersökningen genomfördes via intervjuer, som på grund av rådande Coronapandemi, gjordes online. Sammanlagt intervjuades 7 respondenter.
Resultatet i undersökningen visar att man kan behålla sin ursprungskultur trots att man tvingas anpassa sig till en ny, även om detta är både krävande och svårt. I flera familjer hade man kombinerat kulturen från hemlandet med den finska kulturen. Det som hade påverkat respondenterna mest var den egna familjen och familjens värderingar och traditioner. De flesta respondenterna upplevde att de kände till sin egen identitet.
The purpose of this thesis is to examine how young immigrant women's identity development is affected by living in more than one culture. The main research questions for this thesis are:
What affects (women's) identity development?
Is it possible to reach a strong identity even at multiculturalism?
Is it possible to keep the original culture even when you must adapt to a new one?
The theory part of the thesis is about identity and culture. In the chapter about identity is also the development of an identity and factors that could affect the identity development described. The part of the theory that is about culture also includes explanations about ideologies of culture and their practical function.
The method for this examination is qualitative. The respondents should have been in the age of 15-30 years, be of female gender, been living in Finland for at least 1 year and came as an immigrant to Finland together with their family. The examination was conducted through interviews, which were made online due to the situation of the on-going Corona pandemic. In total were 7 respondents interviewed.
The results of the examination show that you can keep your culture of origin even though you are forced to adapt to a new one. In several families, the culture from the homeland and the Finnish culture had been combined. What had affected the respondents the most was their own family and the family's values and traditions. Most of the respondents felt that they knew their own identity.
Kokoelmat