Handledning av studerande på praktikfältet : en kvantitativ undersökning om hur närvårdarstuderande upplever att handledningen inverkat på deras inlärning
Lundström, Ann-Sofie; Åkerholm, Linda (2011)
---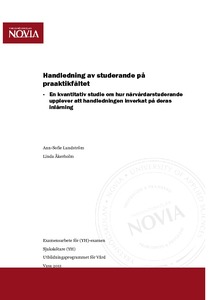 Lundström, Ann-Sofie
Åkerholm, Linda
Yrkeshögskolan Novia
2011
All rights reserved
Julkaisun pysyvä osoite on
http://urn.fi/URN:NBN:fi:amk-2011112815887
Tiivistelmä
Examensarbetet är en del av projektet kunskap i utveckling. Projektet finns vid yrkeshögskolan Novia.
Syftet med denna undersökning är att undersöka hur närvårdarstuderande upplever handledning under ILA. Undersökningen görs för att få mera information och förståelse för studerandes olika upplevelser. Som datainsamlingsmetod har respondenterna en färdigt gjord enkät som 81 närvårdarstuderande har svarat på. Som teoretiska utgångspunkter använder respondenterna sig av relation och handledning. Som dataanalysmetod används SPSS och resultatet presenteras med hjälp av cirkeldiagram gjorda i dataprogrammet Excel.
Respondenternas frågeställningar är: Hur upplever studerande handledning under ILA? Hur fungerar relationen mellan studerande och handledare? I resultatet framkommer att största delen av studerande är nöjda med sin handledning under ILA. Relationen mellan studerande och handledare fungerar bra och studerande anser att deras handledare är trygga i sina roller som handledare. Dock har det påträffats brister i huruvida studerande upplever att de fått feedback av sina kliniska handledare, även bristande intresse angående studerandes lärande har påträffats.
The thesis is a part of the project knowledge in development. The project is at University of Applied Sciences Novia.
The purpose of this study is to investigate how practical nurse students experience supervision during the ILA. The survey is done in order to get more information about and understanding of students' different experiences. A ready-made questionnaire was filled out by 81 students. As theoretical starting points, the respondents selected supervision and relationships. The results were analyzed with SPSS and presented in pie charts.
The respondents' questions are: How do students feel about the supervision during ILA? How do the relationship between students and supervisors work out? The results showed that the majority of students are satisfied with their supervision during the ILA. The relationship between students and supervisors work out well and the students believe that their supervisors were confident in their roles as supervisors. However, they found deficiencies in whether students feel that they received feedback from their clinical supervisors. There was also a lack of interest about the student's learning.
Kokoelmat