ANALYS AV PROCESSUTVECKLING OCH PROCESSERNAS MOGNADSGRAD : Case ARNON
Bergroth, Thomas (2020)
---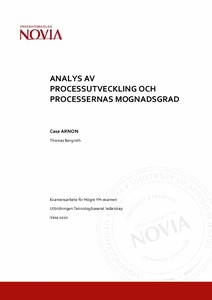 2020
All rights reserved. This publication is copyrighted. You may download, display and print it for Your own personal use. Commercial use is prohibited.
Julkaisun pysyvä osoite on
https://urn.fi/URN:NBN:fi:amk-2020121327859
Tiivistelmä
Examensarbetets ämne är kvalitetsförhöjande processarbete i ett företag (ARNON Oy). Syftet med avhandlingen är att dels beskriva företagets processer, men också dels analysera hur dessa processer upplevs och erfars av sex olika processägare. Huvudsaklig fokus är inte att förbättra process-beskrivningar inom företaget utan i att analysera hur de nuvarande, relativt nya processbeskrivningarna blir, eller inte blir, förankrade i företagets verksamhet.
Arbetet berör företagets verksamhetskultur. En annan aspekt i fokus är företagets kvalitetsarbete och förändringsledarskap som behövs i detta kvalitetsarbete. Forskningsfrågor för arbetet är
1. Hur etablerade är processerna i företaget i det skede då materialet för slutarbetet samlades in (2020)?
2. Vilka utmaningar i processutveckling kan identifieras som sådana "low hanging fruits" som kan arbetas kring för att få processutvecklingen löpa bättre?
Analysmaterialet i slutarbetet består av processdokumentation och ljudupptagningar av i möten i samband med kartläggningar och utvecklingsarbete kring företagets processer. Materialet är insamlat med fokusgrupper. Fokusgruppmetoden är en metod inom kvalitativ forskning och används till exempelvis i aktionsforskning. Aktionsforskning används som analysteori.
Resultaten visar för att få till stånd en processorientering i ett företag så räcker det inte med att rita övergripande processbilder utan det handlar om ett kontinuerligt och långvarigt arbete och man måste arbeta för att processerna mognar i företaget. Ännu är det funktionerna som dikterar processen i det undersökta företaget även om processerna borde gå tvärs över olika funktioner.
The topic of the study is the quality improvement done by a process orientation in a company (ARNON Oy). The aim of the study is partly to describe the processes at the company but also to analyze how these processes are experienced by six process owners. The main focus is not to improve the processes but to analyze how the relatively new process descriptions are –or are not– established in the organisational culture of the company.
The study is about organisational culture of the company. Another aspect is the quality work at the company and the type of change leadership that is needed for this quality work. The research questions are:
1. How established were the processes at the time of data collection (2020)?
2. What challenges in the process-development can be identified as "Low Hanging Fruits", that can be the basis of the future on-going development work?
The data consists of documentation of processes and audio-recordings in meetings about developing the processes at the company. Focus group sample was used as is common in qualitative research such as in Action Research. Action Research is used as a theoreticalframework.
The results show that in order to establish a process orientation in a company it is not enough to draw a few overarching process documents. Instead, it requires continuous and long-term work and it needs to be seen to that processes are allowed mature in the company. At the time of the data collection it was still visible that functions, rather than processes, were defining the work at the case study company.
Kokoelmat