Potential Impacts of Brexit Scenarios on Transportation of Goods Between Finland and the UK
Karmakallio, Jaakko (2020)
---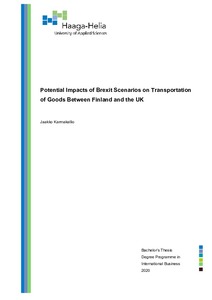 2020
Julkaisun pysyvä osoite on
https://urn.fi/URN:NBN:fi:amk-2020121829622
Tiivistelmä
Britain's possible exit from the European Union will have far-reaching effects. This study concentrates on the potential effects of Brexit on the transportation of goods between Finland and the UK. The Brexit scenarios that are given the most focus are 'remain' and 'no deal', in which case the UK would leave the EU without having negotiated a withdrawal deal. The UK leaving the EU is expected to cause impacts in three main areas: tariffs, payments and customs procedures.

This thesis was carried out as a desktop study. It includes an analysis of the status of trade between Finland and the UK in the 2000s. The analysis is based on literature on the subject and is supported by graphs I created with Excel using trade data I downloaded from the Finnish Customs Uljas database. The UK is a major trading partner with Finland, and Finland maintains a positive balance of trade with the UK. However, the trade volumes between the countries have been in decline since 2002. A turnaround in the trade trend between Finland and the UK does not seem likely in the years following Brexit.

The starting point for the study is the European single market, which is an ongoing project that promotes seamless trade between EU member states. This is further facilitated by the EU Customs Union, which ensures that member states do not pay tariffs on goods obtained from other member states, and do not carry out customs checks on goods that are in free circulation in the EU.

Tariffs are one of the main barriers to trade. If the UK leaves the EU, it may introduce tariffs on a wide range of imports from the EU. Likewise, the EU Common Customs Tariff will apply to goods imported to Finland from the UK in the absence of a trade deal that removes all tariffs and quotas from trade between the UK and the EU. Therefore, importing and exporting certain goods between Finland and the UK will become more expensive.

The SEPA system facilitates the transfer of payments between EU member states. Payments are unlikely to be affected by the UK leaving the EU without a withdrawal agreement, as a country can remain within the SEPA system even if it leaves the EU, as long as it continues to fulfil the conditions required by SEPA.

The introduction of customs checks on goods transported between the UK and member states such as Finland is likely to be one of the biggest impacts of Brexit on transportation. Customs checks on products that previously did not require customs treatment are likely to cause delays and congestion in main customs thoroughfares such as the Port of Dover and Finnish ports. This can have a detrimental effect on supply chains, and some manufacturers have already left the UK in anticipation of difficulties. Companies that engage in trade in goods with the UK will need to prepare for the possibility of delays and additional costs resulting from the increase in customs procedures.
Kokoelmat