Resursförstärkande mentalvårdsarbete för den finländske mannen : Kartläggning av aktuell forskning
Båsk Hellström, Alexander (2011)
---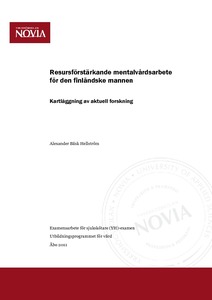 Båsk Hellström, Alexander
Yrkeshögskolan Novia
2011
All rights reserved
Julkaisun pysyvä osoite on
http://urn.fi/URN:NBN:fi:amk-2011121218097
Tiivistelmä
Syftet med examensarbetet är att med hjälp av aktuell forskning kartlägga det resursförstärkande mentalvårdsarbetet för den finländska mannen. Frågeställningarna är, vad är resursförstärkande arbete samt hur syns det resursförstärkande mentalvårdsarbetet i aktuell forskning med tyngdpunkt på mannen? Metoden i detta examensarbete är latent innehållsanalys. Resultatet grundar sig på sju artiklar som har kartlagts om det resursförstärkande mentalvårdsarbetet för den finländske mannen. Där framkom psykosocialt stöd, livskontroll – stärka individens egna resurser samt ett mångprofessionellt arbete som viktiga teman. Slutsatsen är att detta borde göra mentalvårdsarbetet mera attraktivt med lågtröskel och endörrsprincip och en helhetssyn.
I litteraturen framkommer att Nordiska män söker senare än kvinnor hjälp och stöd då de är i behov av mentalvårdstjänster. Den här könsskillnaden kan bero på olikheten i hjälpsökande. Det är viktigt att mentalvården samarbetar med socialvården för att utjämna denna könsskillnad. Män kommer oftare i kontakt med socialvården pga. att de har mera missbruksproblem än kvinnor. Psykisk ohälsa är en folksjukdom med många konsekvenser för människan och de närståendes livskvalitet.
The meaning of this study is to analyze the current research about resource-enhancing mental health care for Finnish men. The questions are: What is resource-enhancing work and how is the view of the resource-enhancing mental health care work in current research with emphasize on men?
The method in this study is latent content analyze. I have analyzed seven research about this topic and the outcome of this study in resource-enhancing mental health care work for the Finnish men is to focus on psychosocial support, life control – strengthening of individuals own resources and multi-professional work. The conclusion about this is that mental health care work is more attractive with a low threshold and holistic view.
In the research it appears that Nordic men seek later help in mental health care compared to women. It is important that mental health care cooperate with the social services for this work with the difference in help-seeking behavior. Men seek more often contact with the social care because they have more drug problems than women. Mental health illness is a public disease with many consequences for the people and their relatives' life quality.
Kokoelmat