Theseusta huolletaan. Kirjautuminen on estetty ja järjestelmän uudelleenindeksoinnista johtuen arkistossa näkyy alkuun vähemmän töitä kuin siellä oikeasti on.
Effektregulator för magasinerande elvärme
Colliander, Anders (2011)
---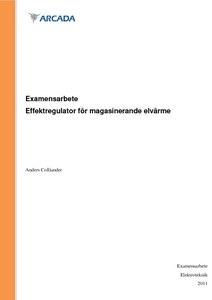 Arcada - Nylands svenska yrkeshögskola
2011
All rights reserved
Julkaisun pysyvä osoite on
http://urn.fi/URN:NBN:fi:amk-2011122119092
Tiivistelmä
Sammandrag:
Avhandlingens syfte är att framställa en kretsprototyp som skall reglera effekten till olika elvärmeappartur. Meningen är att effektregulatorn installeras i varje hushåll som har elvärme som primär uppvärmning. Effektregulatorn kommer att fördröja effektpiken som uppkommer vid skifte mellan dag- och nattariffen. Elbolagen kommer att ha nytta av denna krets och den skulle installeras i hushållen på deras begäran, på detta sätt skulle de kunna garantera en jämnare elproduktion. Arbetetpåbörjades med att analysera ett tidigare arbete som byggde på en idé med samma funktionspricip och gjordes av Kim Saares, och det handlar om kretskortutveckling. I detta arbete ser man hur ett kretskort planeras och framställs med hänsyn till den tidigare kretsens svagheter. I ett tidigt skede beslöts det att kretsen måste byggas på nytt och använda sig av en annan teknik. Den nya tekniken i effektregulatorn är en PIC-mikrokontrollerteknologi. I arbetet kommer man fördjupa sig i dess egenskaper och funktion hos denna krets. När man valt passlig mikrokontroller och bestämt funktionsprincipen, påbörjades kretskortsplaneringen med ett datorprogram var man valde de övriga komponenterna till kretsen som skall garantera dess funktion. Programmeringen av mikrokontrollern gjordes på en dator var man även simulerade PIC-kretsens funktion. I arbetets sista del etsade man ett kretskort och lödde fast komponenterna, sedan kördes programmeringskoden in i PIC-mikrokontrollern och kretsen testades.
Abstract:
The purpose this thesis was to build a circuit prototype that will regulate the input power to electrical heating systems. The idea is to install the power regulator to every household which has electricity as the main heating source. The power regulator will make a delay to the power peak that occurs in the transition between day- and night electricity. The electricity companies would have the biggest benefits of this system and its mend for them to install it to every household, this could guarantee a smooth electricity production. The thesis begins with an analysis of an older thesiswith the same purposemade by Kim Saares ("kretskortsutvekling"). In this thesis is presented how a circuit is planned and produced by improving the old circuit's weaknesses. It was already in the early beginning decided that the circuit had to be redone, using a different technology. The new technology in the power regulator is using a PIC-microcontroller integrated cir-cuit. The thesis will deepen into the microcontroller's features and function in the power regulator circuit. When the correct microcontroller was chosen for the circuit the circuit planning started with computer software where all the other components were chosen. The coding was done on a computer and even the simulation of the microcontroller func-tion was to be done. The last part of the thesis was showing the manufacturing of the printed circuit board where all the components were soldered. The code was then down-loaded in to the microcontroller and the power regulator circuit was tested.
Kokoelmat