Sociala media i marknadsföringen : Vägen från fenomen till marknadsföringsverktyg
Lindvall, Eivor (2012)
---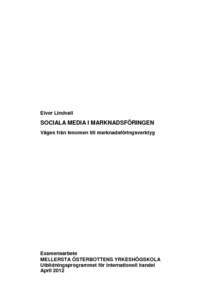 Keski-Pohjanmaan ammattikorkeakoulu
2012
All rights reserved
Julkaisun pysyvä osoite on
http://urn.fi/URN:NBN:fi:amk-201205015659
Tiivistelmä
Konsumenterna har tagit sociala media i användning och därmed har sociala mediernas betydelse vuxit som en marknadsplats, där även företagen kan ha nytta av att delta i PR- och marknadsföringssyfte. Min målsättning med detta examensarbete var att undersöka vilken nytta företag eftersträvar genom sin aktivitet i sociala media. Nyttan och riskerna med sociala media diskuterades ur en marknadsföringssynpunkt.
Sociala media blir ofta beskrivna som ett fenomen för att dess historia är kort, med en nästan explosiv utveckling. Examensarbetet inleddes med en tillbakablick till tiden när kommunikationerna byggdes upp och datoriseringen skedde. Detta för att ge de sociala mediernas historia ett längre perspektiv, i ett försök att peka på knutpunkter mellan förr och nu.
Några av marknadsföringens olika användningssätt i sociala media beskrevs i examensarbetet, och paralleller har drogs till traditionella marknadsföringsmetoder. I en snabbt växande virtuell värld krävs att säkerheten tas i åtanke, likväl som i den verkliga världen, därför diskuterades även behovet av riktlinjer för personal och användare, samt olika hotbilder.
Som undersökningsmetod valde jag en kvalitativ intervju i ett försök att fånga företagares åsikter gällande vilken nytta de har av att vara aktiva inom sociala media. Undersökningens resultat visade på att nyttan finns, men det är ännu oklart hur man bäst kan mäta den. Examensarbetet hade ingen uppdragsgivare, därför speglades ämnet sociala media ur en allmän synvinkel gällande konsumentbeteende, företagsanvändning och nyttan i marknadsföringskommunikationshänseende.
The consumers has taken social media into use and accordingly, the significance of social media has increased as a marketplace, from which also the companies can benefit by participating, in the purpose of PR and marketing. The background for my thesis was to research what benefits companies strive to reach by being active in social media. The advantage and the risks with social media were discussed from the viewpoint of marketing.
Social media is often being described as a phenomenon since its history is short, with an almost explosive development. The report begun with a flashback to the time when the communications was structured and the computerization occurred. The reason for this was to give the history of social media a longer perspective, in an attempt to point out junctions between before and now Some of the different methods of use in social media were described, and parallels have been drawn to traditional methods of marketing. In a virtual world that is rapidly growing, security has to be taken into consideration, as well as in the real world. Therefore the need of guidelines for personnel and users has also been discussed, as well as different threats.
As the main method of research I have chosen a qualitative interview in an attempt to capture the opinions of entrepreneurs, regarding which benefits they can gain by being active in social media. The results from the researches show that the benefits can be found, but how to measure them properly is yet too early to say. The thesis did not have a commissioner and therefore was the subject social media reflected from a general point of view regarding consumer behavior, business usability and the advantages gained in a marketing communication viewpoint.
Kokoelmat