"Alla barn borde ha StegVis, absolut alla barn" : en kvalitativ undersökning av ett daghems upplevelser av programmet StegVis
Wikman, Sarah; Karlå, Marielle (2012)
---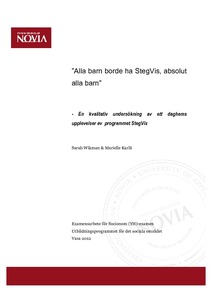 Wikman, Sarah
Karlå, Marielle
Yrkeshögskolan Novia
2012
All rights reserved
Julkaisun pysyvä osoite on
http://urn.fi/URN:NBN:fi:amk-201205025884
Tiivistelmä
Syftet med vårt lärdomsprov är att undersöka om det utvalda daghemmet genom att använda programmet StegVis uppnår det som programmet eftersträvar. Vi vill med hjälp av vår undersökning få reda på hur bra barnen på daghemmet har utvecklats med hjälp av StegVis. Vår undersökningsmetod var kvalitativa intervjuer med två av daghemmets personal som har haft hand om StegVis- undervisningen i flera år.
StegVis är ett program vars syfte är att främja utvecklingen av social och känslomässig kompetens hos barn. Teoridelen behandlar viktiga grundstenar i StegVis som t.ex. empati, etik, moral och emotionell intelligens.
Resultatet av de kvalitativa intervjuerna visar att daghemmet har sett positiva effekter av programmet. Olika delområden där de har sett resultat är bl.a. inom konflikthantering och hanterandet av känslor. De anser att speciellt empatin ökas mera strukturerat med hjälp av programmet.
The purpose of our thesis is to investigate whether our chosen kindergarten, by utilizing the "StegVis" programme, has achieved the targets at which the programme aims. With the aid of our study we want to find out how well the children at the kindergarten have developed with the help of "StegVis". Our research method was qualitative interviews with two of the kindergarten's members of staff who have been responsible for the "StegVis" education for several years.
"StegVis" is a programme which aims to promote children's social and emotional competence. The theory section of this thesis deals with important concepts in "StegVis", such as empathy, ethics, moral and emotional intelligence.
The results of the qualitative interviews show that the kindergarten has seen positive results stemming from the programme. Areas with a noticeable result have been for example conflict resolution and managing emotions. The staff is of the opinion that especially the empathy is improved in a more structured manner through the programme.
Kokoelmat