Våld i parförhållandet : en intervjustudie om vårdrelationens viktigaste element i vården av den misshandlade kvinnan, ur vårdarens synvinkel
Hägglund, Alina (2012)
---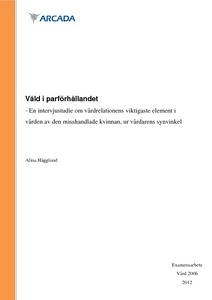 Arcada - Nylands svenska yrkeshögskola
2012
All rights reserved
Julkaisun pysyvä osoite on
http://urn.fi/URN:NBN:fi:amk-201205036043
Tiivistelmä
Detta examensarbete behandlar våld i parförhållandet ur vårdarens synvinkel och utreder vårdrelationens viktigaste element i vården av den misshandlade kvinnan. Studiens övergripande forskningsfrågor var därmed: Hur upplever vårdaren en vårdrelation till en kvinnlig patient som lever i ett parförhållande där det utövas våld?, Vilka färdigheter krävs av vårdaren för att kunna ta hand om en misshandlad kvinna? Och anser vårdare att de får det stöd de behöver inom arbetsgemenskapen för att kunna ta hand om en misshandlad kvinna? Tidigare forskning visar att vårdpersonal anser ämnet våld i parförhållandet svårt och belastande. Ämnet präglas även av en tabustämpel vilket gör att många tycker ämnet är för privat att ta upp. Teorin tyder på att det bästa sättet att gå till väga är att våga fråga rakt på sak då kvinnan ofta upplever en lättnad av att någon tar ansvar för situationen.
Undersökningen utfördes induktivt med kvalitativ innehållsanalys. Fyra informanter som arbetar inom vårdyrket och kommer i kontakt med offer för misshandel intervjuades.
Studiens resultat visar att informanterna ansåg ämnet som tungt och belastande men att det också låg på deras ansvar att fråga om våld i parförhållandet. De viktigaste elemen-ten i vårdrelationen var förtroende ingivande, kunnande och empati och tre av fyra informanter ansåg sig få det psykiska stöd de behöver för att kunna vårda en misshandlad kvinna.
Denna studie ingår i Arcadas sårbarhetsprojekt som handleds av överlärare Bettina Stenbock-Hult och samarbetspartner inom projektet är Helena Ewalds, THL institutet för hälsa och välfärd.
This thesis has focused on domestic violence from the nurses point of view and analyzed the most important elements of a caring relationship when the patient is an abused wom-an. The questions that were asked: How does a nurse experience a caring relationship to a female patient who is being abused?, What skills does a nurse require when taking care of an abused woman?, Do nurses think they get the support they need from their working community to take care of an abused woman?
Earlier research show that care-providers think of the subject domestic violence as diffi-cult and as a burden. The subject is taboo-marked and therefore many nurses think the subject is too private to bring up to discussion. The theory indicates that the best way to go about is to dare to ask directly about domestic violence because the woman often feels relief that someone takes control of the situation.
The study was performed with inductive reasoning with a qualitative analysis of content. Four informants who all work with a caring profession and meet abused women were in-terviewed.
The results of the study show that the informants consider the subject difficult and think of it as a burden but also see it as their responsibility to ask about domestic violence. The most important elements in the caring relationship were to inspire confidence, knowledge and empathy. Three of four informants thought they get the mental support they need for taking care of abused women.
This study is included in Arcadas project of Vulnerability. The leader is Bettina Stenbock-Hult and co-worker in this project is Helena Ewalds, THL –institution of health and well-being.
Kokoelmat