The underrepresentation of Women as Cinematographers : What hinders a woman on her way to become a cinematographer?
Lehto, Pia-Maria (2012)
---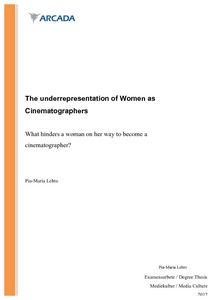 Arcada - Nylands svenska yrkeshögskola
2012
All rights reserved
Julkaisun pysyvä osoite on
http://urn.fi/URN:NBN:fi:amk-201205036171
Tiivistelmä
Det finns inte många kvinnliga filmfotografer som arbetar med långfilmer inom den finska filmindustrin. Det är ett världsomfattande problem att kvinnor har svårt att nå de ledande chefspositionerna inom olika typer av branscher. Problemet diskuteras och tas ständigt upp inom politiken, trots detta har det endast skett små förändringar.
Syftet med denna uppsats är att undersöka vad som hindrar kvinnor på deras väg att bli filmfotografer. Examensarbetet undersöker vilket stadium som är det mest utmanande för en kvinnas karriär och identifierar var de största hindren äger rum.
Den valda forskningsmetoden är den kvalitativa metoden eftersom denna avhandling undersöker varför kvinnor väljer att bli filmfotografer, vad deras motivation är och hur det tror att deras kön påverkar deras framgång. För min uppsats har jag genomfört intervjuer med fyra kvinnliga filmfotografstuderanden. Temaintervju valdes som intervjuteknik. Tekniken används för att samla in kvalitativ data och är ett lämplig sätt eftersom den ger respondenten friheten att tala öppet och oavbrutet om ämnet.
Examensarbetets resultat identifierar steget från skolan till filmindustrin som det skede på karriären där kvinnliga filmfotografer stöter på sina första hinder. Kvinnliga filmfotografer har svårt att få anställning, vilket leder till svårigheter med att få erfarenhet och möjligheten att bygga upp ett namn för sig. Skolor ger däremot samma möjligheter för både män och kvinnor och kan inte anklagas för att hindra kvinnor på deras väg att bli filmfotografer.
Diskriminering av kvinnor på arbetsmarknaden och på arbetsplatser är ett mycket komplext och utbrett fenomen. Detta examensarbete undersöker endast kvinnliga filmfotografstuderanden inom filmindustrin och kan inte förklara de djupt rotade motiven för fenomenet på en sociologisk eller psykologisk nivå.
There are not many women working as cinematographers with feature films in the Finnish film industry. It is a worldwide problem that women in general are not able to reach top positions in their line of work because of their gender. Politicians are aware of the problem and it is often brought up in discussions. So far though only minor changes have occurred.
The purpose of this thesis is to research what hinders women on their way to become cinematographers. The thesis researches which stage is the most difficult for women on their career path and identifies the major barriers.
The chosen research method is the qualitative method because this thesis researches why women choose to become cinematographers, what their motivation is and how they think their gender affects their success. For my thesis I conducted interviews with four female cinematography students. For the interviews the focused interview technique was chosen. This technique is used to collect qualitative data and is highly suitable because it allows a respondent to talk about the topic openly and without time pressure.
The findings identify the step from school into the film industry as the stage on the career path where female cinematographers face the first great barriers. Female cinematographers have trouble with getting employment to gain experience and to build up reputation. Schools provide the same opportunities for both men and women and cannot be blamed for the unsuccessful attempts of women to become cinematographers.
The discrimination of women in the labour market and in jobs is a very complex and widespread phenomenon. This thesis is only investigating the discrimination of female cinematographer students in the film industry and cannot explain the deeply rooted rationales for the phenomenon on a sociological and psychological level.
Kokoelmat