Räntefria lån - ett mer rättvist bankväsen?
Ovaska, Niklas (2012)
---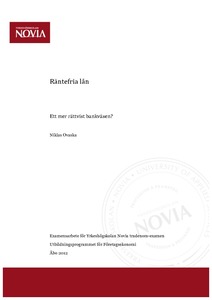 Yrkeshögskolan Novia
2012
All rights reserved
Julkaisun pysyvä osoite on
http://urn.fi/URN:NBN:fi:amk-201205097129
Tiivistelmä
Examensarbetet behandlar JAK Finlands räntefria spar- och lånesystem. Syftet är att undersöka hur JAK:s system fungerar och se om det i längden är det bästa sättet att låna pengar på? JAK Finland startade sin verksamhet i slutet av år 2010 och gav deras första lån i slutet av år 2011. Deras verksamhetsidé kommer från Danmark och Sverige där det finns motsvarande JAK föreningar. Arbetet tar även en kritisk syn på hur traditionella bankers kreditutlåning påverkar ekonomin, bland annat hur ränta påverkar priser, tillväxt och skulder. Enligt räntekritiker är ränta en bidragande faktor till inflation, arbetslöshet, höga priser och eviga skuldsättning.
Examensarbetet grundar sig på en kvalitativ forskningsmetod och som tillämpning till den kvalitativa metoden valde jag att göra en fallstudie. Arbetet är uppbyggt på litteratur, intervju och lagstiftning och är av kritisk natur. Tanken med arbetet är att väcka tankar om hur kulturella traditioner och mäktiga aktörers handlingssätt är en fördel för vissa särintressen och till skada för andra.
Räntefria lån fungerar i praktiken som lån med ränta men kräver långsiktigt tänkande. Medlemmar betalar en låneavgift för räntefria lån. Låneavgiften skall täcka JAK:s administrativa kostnader likadant som räntan gör för banker. Det som skiljer dem åt är att ränta går också till ägare och insättare. JAK använder sparlån vilket betyder att medlemmar sparar samtidigt som de återbetalar sina lån.
The thesis discusses JAK Finland's interest free save and loan system. The purpose is to examine how JAKs system works and if it, in the long run, is the best way to loan money. JAK Finland started their operation at the end of year 2010 and gave their first loan at the end of year 2011. Their business idea originates from Denmark and Sweden, where there are corresponding JAK associations. The thesis also takes a critical look at the traditional banking credit system and how it affects the economy; among other things how interest affect prices, economic growth and debts. According to critics interest is a contributory factor for inflation, unemployment, high prices and perpetual debt.
The thesis is based on a qualitative research method. As an application for the qualitative method I chose to do a case study. The text is based on literature, legislation and an interview. It could be said that the thesis is of a critical nature. The intention of the thesis is to provoke thoughts how cultural traditions and procedures of powerful players are beneficial for some and harmful for others.
Interest free loans work similarly to regular loans with interest, but require forward thinking. For interest free loans, members pay a loan fee instead of interest. The loan fee covers JAKs administrative costs, as interest does for regular banks; however, the interest also goes to the owners and depositors. JAK uses saving loans which means that members have to save during the time they pay back their loans.
Kokoelmat