- Huom! Theseus-tuki on poissa käytöstä teknisten huoltotöiden takia 11.–15.10.2019. Ongelmatilanteessa ole yhteydessä oman ammattikorkeakoulun kirjastoon. - Theseus Support-e-post är ur användning 11.–15.10.2019. Om du har problem, vänligen kontakta ditt eget UAS-bibliotek. - Theseus Support e-mail is out of use 11.–15.10.2019. In case of problems please contact your own UAS Library.
Import av kläder från USA till Finland
Forsell, Linda (2012)
---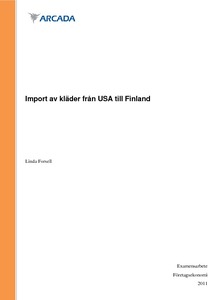 Arcada - Nylands svenska yrkeshögskola
2012
All rights reserved
Julkaisun pysyvä osoite on
http://urn.fi/URN:NBN:fi:amk-201205107534
Tiivistelmä
Syftet med arbetet är att redogöra för import för ett startande företag som importerar kläder från ett land utanför EU, i detta fall USA. Arbetet syftar till att skapa en förståelse för de olika delmomenten inom importprocessen, vilket inkluderar hela flödet från att varorna köps in i Amerika, tills de anländer till det Finska Tullområdet. Delsyftet är att ge en bild av vad importkostnaderna kommer att bli då varorna anlänt till det finska tullområdet. Problemområdet omfattar bland annat vad man bör ta i beaktande vid import, såsom tullförfaranden, restriktioner samt eventuella handelshinder vid import av kläder från USA till Finland.
Internationell handel är idag ett faktum, man kan se att många amerikanska varumärken redan hittat sin väg till Finland. Jag har fått ett uppdrag av en person som tänkt grunda ett företag som skulle importera kläder av fyra olika märken från USA. Vidareförsäljningen i Finland skulle ske via en Outlet på Internet. Arbetet kommer att fungera som en förundersökning för då uppdragsgivarens verksamhet eventuellt inleds.
Igenom arbetet kommer att behandlas ett fiktivt inköp av en liten mängd kläder, hur transporten av dessa varor kunde skötas samt förtullningsförfaranden i samband med importen.
Resultatet av slutarbetet är att kläderna kunde köpas in billigt från Outlets i USA, samt att transport via mindre postpaket skulle lämpa sig vid start av företagets verksamhet. I samband med förtullningen har jag även kommit fram till en importkostnad för denna mängd kläder som skulle importeras.
The purpose of this thesis is to describe the import processes for an upcoming company importing clothes from a country outside the EU, in this case the United States. The thesis aims to create an understanding for the different steps in the import process, which includes the whole flow beginning with the products being purchased in the United States until they arrive at the Finnish customs area. The aim of this thesis is also to give an idea of what the import costs for the products would be when the goods have arrived at the Finnish customs area. The area of problem includes what one should take in consideration when importing, such as customs procedures, different restrictions as well as possible trade barriers when importing clothes from the United States to Finland.
International trade is nowadays a fact, as one can notice that many American brands can be found on the Finnish markets. I have been commissioned by a person that is thinking about starting a clothing company that would focus on importing clothes of four different American brands to Finland. The clothes would be sold through an Internet Outlet. This work will serve as a pre-investigation for the entrepreneur.
Through the thesis I will follow an example of a fictious purchase of a small amount of clothes. I will investigate on what would serve as a suitable mean of transportation for the products. Finally I will describe the customs procedures.
The result of this thesis is that the clothes could be purchased from different Outlets in the United States to a reduced price. The clothes could be sent and transported through smaller postal parcels. I have also got a cost for the products when they are finally in Finland.
Kokoelmat