Gödslingsförsök i matpotatisodling : En jämförelse mellan bredspridning och placering av konstgödsel
Norrvik, Joakim (2012)
---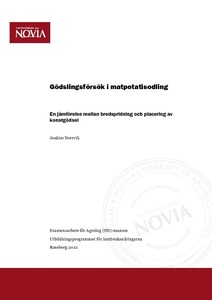 Yrkeshögskolan Novia
2012
All rights reserved
Julkaisun pysyvä osoite on
http://urn.fi/URN:NBN:fi:amk-201205127831
Tiivistelmä
Sammanfattning
I detta examensarbete jämförs två gödslingsmetoder för konventionell matpotatisodling. De båda metoderna som jämförs är bredspridning av konstgödsel före potatissättningen, och placeringsgödsling i samband med sättningen.
Att gödsla potatisfälten är en av de viktigaste odlingsåtgärderna som utförs under en växtperiod, men samtidigt som det är en av de viktigaste är det också en av de dyraste åtgärderna. Därför vill man som odlare att grödan verkligen kan tillvarata den gödsel som sprids ut på fälten.
De båda gödslingsmetoderna jämförs på ett försöksfält som sammanlagt består av två försöksled. Ett led för bredspridning av gödsel och ett led för placeringsgödsling. Frågeställningen är vilken gödselmetod som ger den största totalskörden.
Den största totalskörden kom från placeringsgödslingsledet. Enligt denna undersökning blev det en skördeökning på 3 656 kg/ha till fördel för placeringsgödslingen.
Summary
This thesis compares two fertilization methods of conventional potato farming. The two methods that are being compared are wide fertilizer spreading before potato planting, and applied fertilizer in connection with the setting of potatoes.
To fertilize the potato fields is one of the main farming activities performed during a growing season, but while it is one of the most important operations, it is also one of the most expensive measures. That is why it is very important that the crops can really utilize all the fertilizer that is spread on the fields.
The two fertilization methods are compared in a test field that totally consists of two test rows, one row for the wide fertilizer spreading and one row for the applied fertilizer. The issue is which fertilizer method gives the highest total yield.
The highest yield came from the test row with applied fertilizer. According to this study there was a yield increase of 3 656 kg / ha in the applied fertilizer's favour.
Kokoelmat