Trygg och säker blodtransfusion i hemmet : riktlinjer för hemsjukvårdens personal
Sundqvist, Marika (2012)
---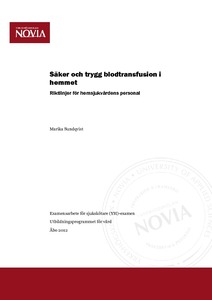 Yrkeshögskolan Novia
2012
All rights reserved
Julkaisun pysyvä osoite on
http://urn.fi/URN:NBN:fi:amk-201205046398
Tiivistelmä
Syftet med mitt exmensarbete är att skapa riktlinjer som kan användas som stöd vid utförande av blodtransfusion i hemmet. Genom riktlinjerna vill jag öka kunskapen och tryggheten för hemsjukvårdens sjukskötare i utförandet av transfusioner, kunskap och trygghet ger i sin tur ökad patientsäkerhet. Riktlinjerna beskriver tillvägagångsättet vid en transfusion så som förberedande åtgärder, instruktioner för transfusionen, eventuella komplikationer och åtgärder.
Riktlinjerna är utarbetade från litteratur inom området men också utgående från praktisk erfarenhet som jag fått genom personlig kontakt med erfarna sjukskötare och sjukvårdspersonal som har praktisk erfarenhet och är involverade i blodtransfusioner. Riktlinjerna har presenterats vid ett handledningstillfälle för sjukskötare inom Mariehamns hemsjukvård där de kan användas i omvårdnadsarbete som ett arbetsredskap och diskussionsunderlag.
Utgående från en litterasturstudie om vad som ökar tryggheten hos sjukskötaren framkommer det att evidensbaserad kunskap, utvecklingen från novis till expert och riktlinjer är viktiga redskap för sjukskötaren i sin kunskapsutveckling, vilket ökar trygg- och säkerhet vid utförandet av omvårdnadshandlingar.
The aim of this Bachelor's thesis is to create guidelines that can be used as a support when performing blood transfusion at home. Whit the guidelines I wish to increase the knowledge and the safety of the home care nurse when performing transfusions. Knowledge and safety will, in turn, increase the patient's safety. The guidelines describe the approach of a transfusion as preparatory measures, instructions for transfusion, complications and interventions.
The guidelines have been elaborated from literature, but also from practical of experience that I have gained through personal contact with experienced nursing staff that has practical working life experience and are involved in blood transfusions. The guidelines have been introduced at a tutorial session for nursing staff within the home nursing of Mariehamn, where they can be used in nurturance job as an implement and as a basis of discussion.
On the basis of literature study about what increases the confidence of nurses, it appears that evidence based knowledge, the evolvement from novice to expert and guidelines are important implements for the nurse in his or her process of gaining knowledge, these increases confidence and safety when performing different kinds of nurturance actions.
Kokoelmat