Den elektroniska dokumentationens inverkan på vårdkvaliteten
Gustafsson, Jenny (2012)
---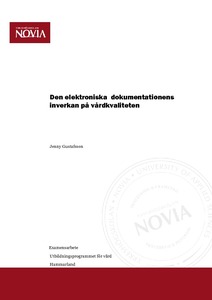 Yrkeshögskolan Novia
2012
All rights reserved
Julkaisun pysyvä osoite on
http://urn.fi/URN:NBN:fi:amk-201205158311
Tiivistelmä
Syftet med examensarbetet var med hjälp av litteraturöversikten utreda hur elektronisk vårddokumentation inverkar på vårdkvaliteten och att få beslutsfattarna i min hemkommun att förstå varför det är bättre med elektronisk vårddokumentation än pappersvårddokumentation. Frågeställningarna i denna studie är: Vilka positiva och negativa effekter elektronisk vårddokumentation har och på vilket sätt vårdkvaliteten påverkar genom sig utav elektronisk vårddokumentation.
Datasökningen har gjorts dels i manuellt, i böcker, handböcker och dels i databaser Chinal, Ebsco och PubMed.
Studien visar att användningen av elektronisk vårddokumentation i olika organisationer inom vården ger patienten en bättre vårdkvalitet och effektiviteten ökar genom elektronisk vårddokumentation. Syftet med att använda sig utav elektronisk vårddokumentation är att trygga den fortsatta vården av patienten som ska tillgodose patientens rätt till information och som stöd för ledning och planering av vårdarbete. Dessutom får hela vårdteamet tillgång till informationen om patienten, utan att behöva samsas om en pappersjournal.
Elektronisk vårddokumentation är inte bara ett redskap för dokumentation av patientinformation, den är i lika hög grad ett redskap för kliniskt beslutsstöd. Med hjälp av litteraturöversikten utarbetade jag min produkt som är en broschyr och en Power Point som är ett visuellt stöd i mitt framförande för beslutsfattarna.
The Purpose of this Bachelor's thesis is to describe how electronic care documentation affects care quality and to help the decision-makers in my home town understand why it is better with electronic care documentation, rather than care documentation in paper. There are two research questions for this study: what positive and the negative effects electronic care documentation has, as well as in which way the care quality affects the use of electronic care documentation.
The method used is partly research in literature, books and scientific articles surrounding the subjects and partly searching through Chinal, Ebsco and Pubmed.
The study shows that the use of electronic care documentation in different organizations in health care gives the patient a better care quality and efficiency increases through the use of care documentation.
The purpose of using electronic care documentation is to secure the continued care of the patient, to satisfy the patient's right to information and support for management and planning of care work. The care team also has access to information about the patient, without waiting until the paper journal is available. Electronic care documentation is not just a tool for documentation of the patient, it is also just as important as a tool for clinical decision making.
Kokoelmat