Mammans lidande vid separation från sitt nyfödda barn : en empirisk studie
Fransman, Ida (2009)
---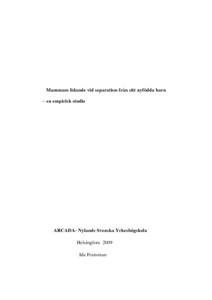 Arcada - Nylands svenska yrkeshögskola
2009
All rights reserved
Julkaisun pysyvä osoite on
http://urn.fi/URN:NBN:fi:amk-200910134922
Tiivistelmä
Syftet med denna empiriska studie är att lyfta fram hur separation från det nyfödda barnet påverkar mamman och få en djupare förståelse för mammans lidande i sådana situationer. Frågorna jag söker svar på är: Hur upplever mamman att den tidiga interaktionen påverkas under separationen från barnet? På vilket sätt upplever mamman lidande?
Det har forskats relativt litet inom detta ämne. Denna studie är en kvalitativ studie. Som datainsamlingsmetod används den narrativa metoden enligt Katie Eriksson (1992). I denna studie frågar jag mammor om deras upplevelser och känslor vid separation från sitt nyfödda barn via ett diskussionsforum på en internetsida (www.mammapappa.com). Jag använder de tio första berättelserna som skickas in som grund för innehållsanalysen (1992). Resultaten delas in i tre kategorier med sex underkategorier samt illustrerande citat, för att ge läsaren en djupare förståelse för mammans lidande. I resultatet framkommer att separationen förorsakar osäkerhet, depression, oroskänslor, dåligt självförtroende, ångest m.m. hos mamman. Den tidiga interaktionen mellan mamman och barnet avbryts vilket också förorsakar störningar i amningen och i mammans bemötande av barnet. Alla dessa faktorer gör att kvinnan inte känner sig som en mamma. Dessutom upplevs personalens engagemang som en viktig faktor hur mamman upplever separationen.
The aim of this empirical study is to emphasize what kind of influence the separation from her newborn child has on a mother, and to get a deeper understanding in a mother's suffering in these kinds of situations. My central questions in this study are; How does the mother experience early interaction during her separation of her child? In which way is the mother suffering?
There is fairly little research on this subject. The study is a qualitative study. I collect data according to Katie Eriksson's (1994, 1992) theory of the narrative method. In this study I ask mothers for their experiences and feelings during the separation via a discussion forum on an Internet- page (www.mammapappa.com) I then use the ten first stories that are sent to me as a ground for my subject analysis (1992). The result divided into three categories and six subcategories as well as illustrating quotations to give the reader a deeper understanding for the mother's suffering. The result implies that separation causes the mother to feel uncertainty, depression, feelings of restlessness, bad self-confidence, and anxiety etc. The early interaction is interrupted which also causes disturbance in breastfeeding and in the mother's relation to her child. Because of these factors the woman doesn't feel like a mother. The staff's commitment assesses as well an important factor to how the mother experiences the separation from her child.
Kokoelmat