Trygghet genom lärande
Håkans, William; Ray, Linda (2012)
---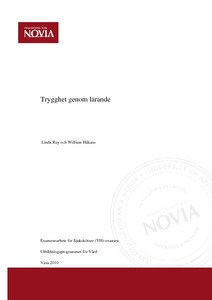 Håkans, William
Ray, Linda
Yrkeshögskolan Novia
2012
All rights reserved
Julkaisun pysyvä osoite on
http://urn.fi/URN:NBN:fi:amk-201205249587
Tiivistelmä
Syftet med detta lärdomsprov är att informera första års studerande vid yrkeshögskolan Novia i Vasa/enheten för vård och socialt arbete i förfarandet vid en brand. Respondenterna har undervisat första års studerande i brandsäkerhet med hjälp av skolans säkerhetsplan. Därefter hölls en brandövning på skolan, vilken senare utvärderades med hjälp av en enkät. Enkäten innehöll 12 frågor angående undervisningstillfället och de studerandes känsla av trygghet under brandövningen.
Som teoretisk bakgrund till undersökningen har respondenterna använt sig av Erikssons och Segestens definition av trygghet samt Benner och Erikssons syn på lärande. Respondenterna har även bekantat sig med tidigare forskning inom ämnet bränder, krishantering och räddningsplaner.
Resultatet visar att en stor del av deltagarna i undersökningen kände sig tryggare under brandövningen tack vare infotillfället. Många av deltagarna kände även att de fick en ökad beredskap efter infotillfället och brandövningen
The aim of this study is to inform first year students at Novia University of Applied Sciences in Vasa at the department of health care and social welfare, about how to act in case of a fire. The respondents held a lesson about fire safety based on the schools security plan for the first year students. After the lecture a fire drill was held at the school and was later evaluated using a questionnaire. The questionnaire consisted of 12 questions regarding the lecture about fire security and the student's sense of safety during the fire drill.
As theoretical background for the thesis the respondents used Eriksson's and Segesten's definition of safety and Benner and Eriksson's view of learning. The respondents have also acquainted themselves with previous studies about fires, crisis management and safety plans.
The result of the survey showed that most of the participants felt safer during the fire drill thanks to the lecture about fire safety. Many of the participants felt that they had an increased preparedness because of the lecture and the fire drill.
Kokoelmat