"Alla är inte som jag?" : En diskussion kring kommunikation och samarbete som aktuella kompetenser för restonomen i turistbranschen utifrån en förståelse för personlighetstyper
Björkgren, Emilia (2012)
---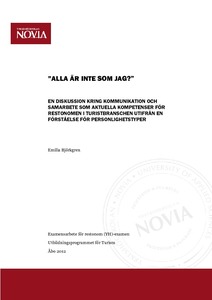 Yrkeshögskolan Novia
2012
All rights reserved
Julkaisun pysyvä osoite on
http://urn.fi/URN:NBN:fi:amk-201205249810
Tiivistelmä
Syftet med detta examensarbete är att diskutera kommunikation och samarbete som aktuella sociala kompetenser för restonomen i turistbranschen. I diskussionen kommer personlighetsformuläret Myers-Briggs Type Indicator® (MBTI®) presenteras som ett verktyg för restonomen att utveckla sina kommunikations- och samarbetsfärdigheter. En del av syftet är även att anordna en temadag för restonomstuderande som behandlar och främjar dessa kompetenser.
Metoden som använts är litteraturgenomgång. Teori om turistbranschens karaktär och MBTI® används som underlag för diskussionen. Syftet uppnåddes även genom att planera, genomföra och utvärdera en temadag för restonomstuderande på Yrkeshögskolan Novia där temat var hur restonomen kan tillämpa MBTI® i turistbranschen. Uppdragsgivaren för examensarbetet är Yrkeshögskolan Novia.
I diskussionen konstateras att turismnäringen är ett storslaget nätverk som utgörs av samarbete och ömsesidiga relationer. Turistbranschen präglas av nätverksbyggande, projektarbete, teamarbete och samarbete över branschgränserna. I ljuset av turistbranschens karaktär blir kommunikations- och samarbetsfärdigheter nödvändiga kompetenser för turismnäringen idag. Restonomen kan bygga upp dessa nödvändiga kompetenser med hjälp av instrumentet MBTI®. Ifall verktyget används på ett sunt och ändamålsenligt sätt kan restonomen ha nytta av MBTI® i sin kommunikation och i samarbete. Temadagen var på det hela taget lyckad från arrangörens, uppdragsgivarens och deltagarnas sida. Under projektets alla faser praktiserades god kommunikation och samarbete som förstärkte restonomens egen inlärning.
The aim of this thesis is to discuss communication and collaboration as current social competences for the tourism industry. In the discussion Myers-Briggs Type Indicator (MBTI®) will be presented as a tool for tourism actors to develop their communication and collaboration skills. Part of the aim of the thesis is also to organize a theme day for tourism management students where the objective is to examine and improve these competences.
The method used is a literature review. Theory on the characteristics of the tourism industry and MBTI® has been used as a basis for the discussion. A theme day for tourism management students at Novia University of Applied Sciences was organized, realized and evaluated concerning how MBTI® can be applied in the tourism industry. The commissioning body for the thesis is Novia University of Applied Scinces.
The paper establishes that the tourism industry consists of a grand network composed of actors intertwined by co-operation. The tourism business is characterized by networking, project-based tourism, teamwork and collaboration with other industries. In the light of the characteristics of the tourism industry, communication and collaboration skills become essential competences for the industry today. Using MBTI® as a tool, tourism actors can develop these essential competences. When the instrument is used in a sound and proper manner, actors are able to benefit from MBTI® in their communication and co-operation. The theme day as a whole was a successful event from the organizer's, client's and the participants' point of view. During the different phases of the project good communication and collaboration skills were practiced to emphasize the student's own learning process.
Kokoelmat