Huom! Theseus-tuen yhteydenotto on poissa käytöstä teknisten huoltotöiden takia 11.–15.10.2019. Ongelmatilanteessa ota yhteyttä oman ammattikorkeakoulun kirjastoon. Attention! Theseus Support e-mail is out of use 11.–15.10.2019. In case of problems please contact your own UAS Library. OBS! Theseus Support e-post är ur användning 11.–15.10.2019. Om du har problem, vänligen kontakta ditt eget UAS-bibliotek.
Energieffektivitet för industrifastigheter : case NMC Termonova Oy, Ingå
wilkman, anders (2012)
---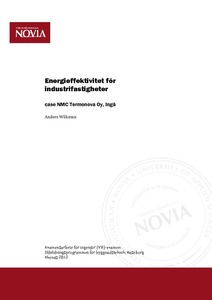 Yrkeshögskolan Novia
2012
All rights reserved
Julkaisun pysyvä osoite on
http://urn.fi/URN:NBN:fi:amk-201205239557
Tiivistelmä
Energieffektivitet är ett ständigt aktuellt och behandlas ofta också i massmedier. Det här arbetet handlar om fabrikers energieffektivitet. Arbetets beställare är NMC Termonova OY.
Syftet med arbetet är att presentera modeller för hur man kan gå till väga för att kontrollera och effektivisera industrianläggningars energianvändning, det vill säga energihantering.
Ökad energieffektivitet är kostnadseffektivt, minskar utsläppen av växthusgaser och hjälper tryggandet av energiförsörjningen vilket har en positiv effekt på miljön.
I arbetet presenteras 2 olika modeller som företag kan använda då de vill bli mera energieffektiva.
Den ena modellen består av energieffektivitetsavtal och Motiva Oy:s energianalys. Energieffektivitetsavtalen sluts mellan företaget, branschorganisationer och ministerier. Med avtalet förbinder sig företaget att minska sin energiförbrukning med 9 % till år 2016 jämfört med medelförbrukningen under åren 2001-2005. För att uppnå målet görs en energianalys som bygger på en av Motiva Oy utformad modell. Företag som utför en energianalys och företag som investerar i energieffektivitet är berättigade till energistöd.
Den andra modellen för energieffektivering som presenteras i arbetet baserar sig på Energimyndighetens råd för energieffektivisering.
I båda modellerna är de centrala delarna att man bör kartlägga och analysera energianvändningen och sedan utföra energieffektiviserande åtgärder. Det är dessutom viktigt att kontinuerligt granska sin energianvändning för att bibehålla en hög energieffektivitet.
Energy efficiency is a current topic that is often also dealt with in the media. This work is all about factories' energy efficiency. This thesis is ordered by NMC Termonova OY.
The purpose of this thesis is to highlight the question of how to proceed in order to control and increase the efficiency of industrial energy use.
Energy efficiency is a cost effective way to reduce greenhouse gas emissions. In addition to increased energy efficiency it reduces greenhouse gas emissions and helps to secure the energy supply, which has a positive effect on the environment in general.
This thesis presents two different models that companies can use when they want to become more energy efficient.
One model consists of an energy efficiency agreement (Energiatehokkuussopimus) and an energy analysis by Motiva Oy. Energy contracts are made between the company, industrial associations and government departments. The agreement commits the company to reduce its energy consumption by 9% by 2016 compared to the average consumption during the period 2001-2005. To achieve this goal an energy analysis is made. The energy analysis is based on a model designed by Motiva Oy. Companies that perform an energy analysis and companies investing in energy efficiency are eligible for energy subsidies.
The second model for energy efficiency, as presented in this thesis, is based on the advice on energy efficiency by Energimyndigheten.
The key elements in both models are to identify and analyze energy use and then carry out measures for increased energy efficiency. It is also important to continually examine energy use to maintain high energy efficiency.
Kokoelmat