Informationsfolder: Helsinki Marina
Viljanen, Sara Matilda (2012)
---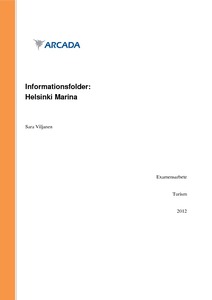 Arcada - Nylands svenska yrkeshögskola
2012
All rights reserved
Julkaisun pysyvä osoite on
http://urn.fi/URN:NBN:fi:amk-2012060411560
Tiivistelmä
Helsinki Marina är en av landets mest attraktiva gästhamnar och sedan sommaren 2010 har verksamheten skötts i sammarbete av två företag. Caféet vid gästhamnen fungerar även som hamnkontor och personalen står till tjänst för både caféets kunder samt hamnens besökare. Syftet med detta examensarbete är att som projekt göra en informationsfolder för Helsinki Marina. Informationsfoldern innehåller information om och instruktioner för gästhamnens tjänster samt information om närområdets tjänster samt sevärdheter. Idén för detta arbete fick jag då jag insåg (då jag jobbat de två senaste säsongerna vid gästhamnen) att vi inte hade all information och instruktioner samlat i en och samma källa, vilket innebar att behovet för en informationsfolder fanns. Målet med den färdiga informationsfoldern är att den skall ge kunderna all nödvändig information samt underlätta personalens dagliga arbete. Informationsfoldern kan även fungera som en handbok för nyanställda.
För utförandet av projektet har jag tagit stöd av en teoretiskbakgrund som består av informations- och instruktionsskrivning samt grunderna och stegen för genomförande av ett projekt. Arbetet redogör för hur projektet definierades, planerades och genomfördes. Slutligen har jag även reflekterat över projektresultatet genom att ta upp mina egna tankar om informationsfoldern samt mina kollegers tankar om folderns innehåll och nytta i framtiden. I korthet kan jag säga att foldern har fått bra kritik och vi tror att informationsfoldern snabbt kommer att hitta sin naturliga roll under kommande säsong.
Helsinki Marina is one of the most attractive guest marinas in Finland. Since the summer of 2010, the marina services have been operated in co-operation by two companies. The marina café also serves as the marina office where the staff will assist both costumers of the café and guests of the marina. The purpose of this thesis is to create an information folder for Helsinki Marina. The information folder will be executed in the form of a project. The folder will consist of information about and instructions for the services of the marina and also information about the services and sights in the local area. I got the idea for this thesis when I realized that we didn't have all necessary information collected in one source, which meant we had a need for an information folder such as this. The aim of the information folder is to give the customer all the required information and to help the staff during the daily work. The folder can also work as a handbook for new personnel.
For the execution of the project I've taken support from a theoretical background that consists of information and instruction writing and the basic steps for executing a project. This thesis presents the definition, planning and execution of the project. I will also reflect over the result of the project where I present my own and my colleagues' thoughts about the context of the folder and of its usefulness in the future. In short, I can say that the folder has received good reviews and we believe the information folder will quickly find its natural role during the upcoming season
Kokoelmat