Employee motivation and its effects on job performance
Siira, Heidi Johanna (2012)
---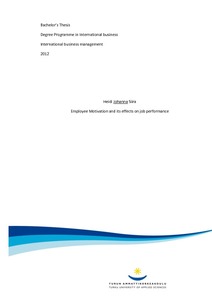 Turun ammattikorkeakoulu
2012
Creative Commons Attribution-NonCommercial-NoDerivs 1.0 Suomi
Julkaisun pysyvä osoite on
http://urn.fi/URN:NBN:fi:amk-2012060611836
Tiivistelmä
Individuals' motivation is influenced by biological, intellectual, social and emotional factors. People have different kinds of activities, events, people, and goals in their lives that they find motivating enough to work for. Therefore motivation will show in each person´s consciousness and actions.
There are four approaches to motivation: physiological, behavioral, cognitive and social. When we look at employee motivation we see that it's a driver that keeps employees working towards a reward, usually it's a salary.
This thesis is about employees drive and intrinsic enthusiasm to accomplish and complete the activities and settled goals related to work environment. I completed this research to understand how many people really are motivated and what the drivers are that keeps them working towards the goals settled.
There are seven strategies that managers could and should use; positive reinforcement/ expectations, effective discipline and punishment, fair treatment, satisfying employee's needs, work related goals, restructuring jobs if needed, basic rewards from the job done.
Motivation can be either intrinsic or extrinsic, meaning that the motivation itself can come either from outside reward or from an individual her-/ himself. Intrinsic motivation means that a person is working and pushing towards the goal because of the pleasure that the situation causes. Extrinsic motivation is an opposite. The motivation is coming from outside of an individual.There are many drive reduction theories, but the first one was developed by a behaviorist Clark Hull during 1940s and 1950s.
According to Hull, and later further developed by his collaborator Kenneth Spence, the reduction of drives is the primary force behind motivation. Hull was the first person to start designing a theory that would explain human behavior. Hull believed that behavior is one of the ways that an organism is maintaining this balance.
Abraham Maslow's need hierarchy theory is focusing on describing the stages of growth in humans. It is also including observations of human's innate curiosity. Maslow is using the following terms to describe the pattern that human motivations usually move through; physiology, safety, belongingness and love, esteem and self-actualization needs.
Kokoelmat