Huom! Theseus-tuen yhteydenotto on poissa käytöstä teknisten huoltotöiden takia 11.–15.10.2019. Ongelmatilanteessa ota yhteyttä oman ammattikorkeakoulun kirjastoon. Attention! Theseus Support e-mail is out of use 11.–15.10.2019. In case of problems please contact your own UAS Library. OBS! Theseus Support e-post är ur användning 11.–15.10.2019. Om du har problem, vänligen kontakta ditt eget UAS-bibliotek.
Bättre kommunikation, mera medlemmar : En rekryteringskampanj för domarverksamhet
Lönnqvist, Tom (2012)
---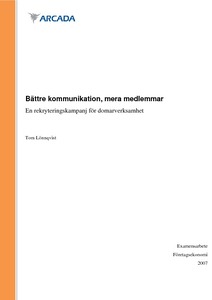 Arcada - Nylands svenska yrkeshögskola
2012
All rights reserved
Julkaisun pysyvä osoite on
http://urn.fi/URN:NBN:fi:amk-2012061512774
Tiivistelmä
Ishockey har under de senaste årtiondena befäst sin position som en av de populäraste idrottsgrenarna i Finland. Ishallar har möjliggjort att kunna utöva sporten året om oberoende av vädret. Antalet spelare och mängden matcher har ökar ständigt vis men anta-let domaren har inte stigit i samma förhållande. Under säsongen 2010 – 2011 var antalet domaruppdrag enbart i huvudstadsregionen cirka 13 000 stycken. Speciellt veckoslut belastade domarklubben Helsingin jääkiekkotuomarit r.y. såpass hårt att man med möda klarade av att fylla uppdragen. Ibland måste matcher till och med inställas. Syftet med detta examensarbete är att rekrytera nya deltagare till kommande domarkurser som ordnas i Helsingfors kommande säsong. Jag utförde ett förslag till en rekryteringskampanj. Problemet omfattade bland annat att HJT hade brist på domare med kompetens att döma på högre nivåer. Allmänhetens negativa uppfattningar av ishockeydomare gjorde det utmanande att hitta nya medlemmar. Kampanjen begränsades till att vara riktad åt spelare som är åtminstone 18 år gamla. Kampanjen är avsedd att utföras antingen av Finlands Ishockeyförbund eller av Helsingin jääkiekkotuomarit r.y. I detta examensarbete tillämpade jag modellen "Linear model of communication" av Shannon och Weaver som teori om kommunikation samt Eric Östmans steg om profileringsinsatser inom kampanjplanering. På basis av teorierna byggde jag upp ett förslag. Som metodval hade jag en kvalitativ studie som bestod av en personlig intervju som berörde teorin och problemområdet i arbetet. Resultatet av den teoretiska granskningen var att det fattas personlig kommunikation i marknadsföringen av domarverksamheten. Kampanjförslaget blev att utför en informationskväll för A-juniorlag med temat "Övriga karriärval inom ishockey". För övrigt kunde jag konstatera att kommunikationen var på en relativt god nivå. Internet har hjälpt till de som är intresserade av domarverksamhet att hitta information. Men trots allt finns det mycket smådetaljer man kunde förbättra på.
In recent decades, ice hockey has grown in popularity in Finland. The indoor ice rinks have allowed the sport to be played year round, regardless of weather. The number of players and the amount of games are increasing, but the number of referees has not being growing in the same proportion. During the season 2010-2011, the number of referee as-signments was about 13 000 for Helsinki ice hockey referees. Weekends were tough for the local referees. The club could barely cope with the large amount of games. Some-times, games had to be cancelled. The purpose of this thesis is to recruit new participants for upcoming referee courses that take place in Helsinki next season. Another issues in-cluded that Helsinki ice hockey referees had a lack of members who would be able to of-ficiate at higher levels. The public's negative perceptions of referees made it challenging to plan a campaign. Therefore, the campaign was limited to be directed to the players who are at least 18 years old. The campaign is intended to be carried out either by the Finnish Ice Hockey Association or the Helsinki ice hockey referees. I applied "Linear model of communication" by Shannon and Weaver and Eric Östman's steps of profiling efforts in campaign planning. I built up a proposal on the basis of these theories. As a methodology, I had a personal interview that was related to the theory and the problem area of the work. The results of the theoretical examination showed that there were some lacks in the marketing of the referee activity, including absence of personal communica-tion. Otherwise, the communication was at a relatively good level. The Internet has helped those who are interested in refereeing to locate information. But there are still de-tails that could be improved.
Kokoelmat