Jämförelse av färdplaner- : en simulatorstudie
Eklund, Roland (2012)
---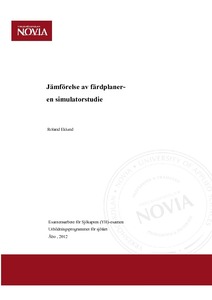 Yrkeshögskolan Novia
2012
All rights reserved
Julkaisun pysyvä osoite on
http://urn.fi/URN:NBN:fi:amk-2012061212561
Tiivistelmä
Sammandrag
Det primära syftet med detta examensarbete är att undersöka skillnader mellan två olika typer av färdplaner i skärgårdsnavigation samt utreda vilken typs färdplan som eventuellt lämpar sig bäst för ändamålet. Jag testar två färdplaner som godkänts och använts vid lotsexamination vid Aboa Mares simulatorcenter i Otnäs. Den ena är en såkallad text färdplan och den andra en ritad färdplan. Jag kommer också att utreda skillnader i resultatena mellan erfaret och oerfaret däcksbefäl.
En sekundär målsättning är att testa olika metoder för simulatorforskning vid Aboa Mare. Jag redogör för hela forsknings processen samt de metoder som använts.
För denna undersökning kördes totalt 36 körningar med simulator. Körningarna utfördes av 12 stycken försökspersoner som körde 3 körningar var. Två av körningarna utfördes med färdplan och en utan färdplan. För att utreda vilken färdplan som lämpar sig bäst för skärgårdsnavigation har jag använt mig av tre huvudmetoder. Jag har mätt försökspersonernas mentala arbetsbelastning, deras känsla av kontroll samt hur bra de lyckats följa farledslinjen under körningarna. Jag har dessutom använt frågeformulär för att intervjua försökspersonerna.
För att mäta den mentala arbetsbelastningen har jag använt en subjektiv metod som kallas NASA TLX (Task Load Index). För att reda ut försökspersonernas känsla av kontroll under körningarna har jag använt en subjektiv metod vid namn COCOM (kontextuellt kontrollindex).
De uppställda målsättningarna uppfylls ganska bra med tanke på det lilla antalet försökspersoner samt körningar. Man kan klart se en skillnad i mental arbetsbelastning samt känsla av kontroll mellan de tre körningarna. Dessa skillnader stöds av resultatena från frågeformulär samt andra observationer under körningarna. Resultaten visar att text- färdplanen skulle vara den bästa av de två versionerna som testades i denna undersökning.
Summary
The primary goal of this thesis is to search for differences between two kinds of route plans in archipelago navigation and to gain an understanding about which one would be more suitable for the task. I am testing two route plans that have been approved and used in pilot examination at the Aboa Mare simulator center in Otnäs. One of the plans is a text plan and the other is a hand drawn route plan. I will also look into differences between experienced and less experienced navigators based on the research results at hand.
A secondary goal is to test different kinds of research methods at Aboa Mare. I describe the research process and all the methods used.
For this study a total number of 36 simulator exercises were conducted with 12 participants, each one performing 3 exercises. Two of the exercises were conducted with a route plan and one without the help of a route plan. To determine which one of the route plans is best suited for archipelago navigation I have relied on three main methods. I have measured the participant's mental workload, the feeling of control and how well the participants managed to follow the fairway during the task performance. I have also performed interviews using questioners.
A multi dimensional subjective rating tool called NASA TLX (Task Load Index) is used to derive a mental workload rating. In order to measure the participants´ feeling of control during the performance a subjective rating technique called COCOM (Contextual Control Model) was used.
The goals are met quite well considering the small amount of participants and test runs conducted for this research. A difference in mental workload and feeling of control between the three exercises can clearly be seen. The differences are supported by the questionnaire answers and other observations during the exercises. Analyses of the results obtained indicate that the text route plan would be the better of the two versions.
Kokoelmat