Impact of rehabilitation on elderly persons with dementia
Thuku, Moses Gichunge (2012)
---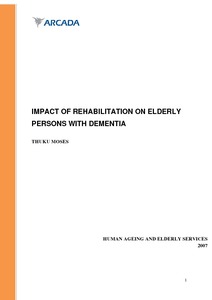 Arcada - Nylands svenska yrkeshögskola
2012
All rights reserved
Julkaisun pysyvä osoite on
http://urn.fi/URN:NBN:fi:amk-2012061912868
Tiivistelmä
Rehabilitation for dementia is plagued by misconceptions. Personal and professional caregivers of people with dementia often ask why they should support rehabilitation efforts when they know that the person with dementia is only ''going to get worse'' anyway. In recent years, however, researchers have provided evidence that individuals with Alzheimer disease (AD) and other types of dementia can benefit from structured behavioral treatments that reduce demands on impaired cognitive abilities and capitalize on spared ones. It is the above misconception that motivated the author to do this study and bring to light the impact of rehabilitation on elderly persons with dementia
The aim of the study is to describe the rehabilitation impact on elderly persons with dementia and also describe the work of the caregivers in this process. Therefore the research question is what impact does rehabilitation have on elderly persons with dementia?
The author started the project with a literature review. For database searches, the author mainly used the terms 'rehabilitation', 'elderly' and "dementia". These searches were carried out on Google scholar, EBSCO, and nelli portal. They yielded hundreds of articles. The author`s choice of articles from the wide range available was based on the criterion that they were concerned with rehabilitation and dementia. The next step was to read through the abstracts those that did not focus on geriatric rehabilitation nursing (dementia) were omitted. The author used 3 categories in the results part namely Skills, Health and Communication to help in answering the research question.
Rehabilitering för demens är plågat av missuppfattningar. Personlig och professionell vårdgivare för människor med demens be ofta varför de borde stödja rehabilitering när de vet att personen med demens '' kommer bara att bli värre '' ändå.
Under de senaste åren, men forskare har styrkt att personer med Alzheimers sjukdom (AD) och andra typer av demens kan dra nytta av strukturerade beteendemässiga behandlingar att minska kraven på nedsatt kognitiv förmåga och kapitalisera på spared de. Det är den ovan missuppfattning som motiverade författaren för att göra denna studie och ljus effekterna av rehabilitering för äldre personer med dementia. The syftet med studien är att beskriva rehabilitering inverkan på äldre personer med demens och också beskriva arbetet med vårdgivare i denna process. Därför är forskning frågan vilken inverkan har rehabilitering för äldre personer med demens?Författaren startade projektet med en litteratur översyn.
För databassökningar används författaren huvudsakligen termerna "rehabilitering", "äldre" och "demens". Dessa sökningar gjordes i Google scholar, EBSCO och nelli portal. De gett hundratals artiklar. Författarens val av artiklar från mängd som är tillgängliga var grundade på kriteriet att de berörda med rehabilitering och demens. Nästa steg var att läsa igenom abstracts som inte fokuserade på geriatrisk rehabilitering omvårdnad (demens) var utelämnas.
Författaren används 3 kategorier i resultatlistan delen nämligen kompetens, hälsa och kommunikation för att hjälpa till att svara på frågeställningen.
Kokoelmat