Meaning and Responsibility : a conceptual framework for media proffessionals
Mickwitz, Casper (2012)
---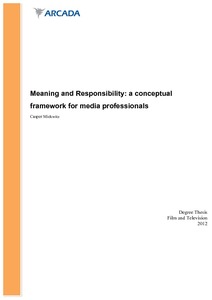 Arcada - Nylands svenska yrkeshögskola
2012
All rights reserved
Julkaisun pysyvä osoite on
http://urn.fi/URN:NBN:fi:amk-2012100914266
Tiivistelmä
Som berättare och media arbetare erhåller man en maktposition. Med makt förknippas ofta ansvar som i proffesionella sammanhang ofta är definierade via etiska koder som normgivande överenskommelser, ofta kommersiella. I denhär studien är idén att undersöka ansvarspositionen ur ett individuellt perspektiv utöver normativa eller kommersiella kontrakt. Studien har för avsikt att se ifall en relation mellan mening och ansvar kan defineras och därmed kunna finna möjlig ram för hur en ansvars position kan se ut. Modellen består främst i att beskriva och begränsa olika former av mening och hur de relaterar till möjligt ansvar beroende av författar-typ (author-type). Som utgångspunkt används två nästan dimentralt olika synsätt för hur människan tolkar sinnesintryck; den direkta upplevelsen och den indirekta upplevelsen som kräver mental processering. Den första representeras av James J. Gibson och den andra av Roland Barthes. Dessa utgångspunkter utvärderas och diskuteras mot en text som utgörs av en student-producerad dokumentarisk film. Uppsatsens tes formulerar att en aktiv förhållning till ansvar är nödvänding för en författare (author) inom rörliga bilder. Resultatet av studien visar även, oavsett ansvarsposition som författare (author), att nyckeln är bemästrande av berättarkonsten framom möjligt ämnat budskap som snarast är en etisk positionering.
Storytellers and media workers occupy positions of power. Power comes with responsibi- lity that is often defined in the professional media environment through codes of ethics, which are normative agreements, often in a commercial form. This thesis addresses a re- levant problem to individual media-makers and suggests a conceptual framework to di- scuss issues of responsibility. The study seeks to understand the relationship between me- aning and responsibility, as well as whether different author-types lead to different posit- ions on the concept of responsibility. It deals with these questions by adopting two almost opposite approaches to perception, one representing direct perception, derived from the work of James J. Gibson, and the other a processed, or indirect, perception, derived from the work of Roland Barthes. These two approaches are defined according to their un- derstanding of meaning and how this understanding is correlated to the responsibility of the media-maker. The study employs this model by working through a sample text, which in this case is a student-produced documentary film.
In this thesis it is argued that an active understanding and awareness of the notion of re- sponsibility is essential for creators of moving images. The study shows further that, in- dependently of this position of responsibility, the media-maker has to be aware of his or her content and its possible perception in order to reduce the risk of unintended outcomes. The key is to master the way to tell the story but perhaps not the message. The latter is a matter of ethical positioning.
Kokoelmat