Detrimental effects of energy drink consumption on adolescents
Akinmolusun, O.; Bezabih, Y.; Kaunissaari, S.; Mugambi, A. (2012)
---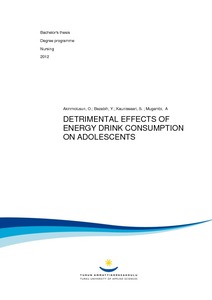 Akinmolusun, O.
Bezabih, Y.
Kaunissaari, S.
Mugambi, A.
Turun ammattikorkeakoulu
2012
All rights reserved
Julkaisun pysyvä osoite on
https://urn.fi/URN:NBN:fi:amk-2012101014335
Tiivistelmä
Background: In recent years the consumption of readily available energy drinks has increased significantly with young adults forming the largest part of the consumers. Commercial energy drinks are made up of mainly caffeine and many other ingredients many of which have not adequately researched and are little understood, especially excessive consumption of these combinations.
Objective: The objective of this project is to enumerate the detrimental effects of energy drink consumption on adolescents, and present to youth centers through digital storytelling. The project is aimed at increasing the level of awareness of the risk associated with energy drink consumption by adolescents.
Methods: The method used in the study was literature review. We searched scientific articles from the following academic databases: CINAHL, PUBMED AND SCIENCE DIRECT. Articles were also retrieved from Google scholars. The data search was carried between September 2011 and March 2012.Set of criteria were developed to guide the study to the right path. One of the criteria used is to include only the articles published in the year 1987 and above; academic databases, google scholars and books written by health professionals; articles in English language related to health effect of energy drinks or energy drink ingredients on adolescents, and the risk behaviors associated with consuming energy drinks mixed with alcohol. However, digital story was developed as an educational tool to inspire the youth on the detrimental effects of energy drinks. The story is part reality, part fiction using voice and pictures.
Results: Studies show that young people are particularly attracted to the consumption of energy drinks and that energy drink consumption has been associated with adverse effect on multiple body systems such as the cardiovascular system and the neurological system. Fatalities have also been associated with energy drink consumption. In addition the popular trend of mixing alcohol with energy drink increases the risk of adolescents engaging in risky behaviour. Hence, energy drinks have been banned in some countries and sales restricted in some others. The digital story has been shown so far at a MIMO seminar in Turku and at a youth centre in Kiikala with positive reactions from the audience.
Conclusions: Energy drinks have been associated with adverse health effects. Studies indicate that more research needs to be done on the effects of the ingredients on health and especially excessive consumption of a combination of those ingredients as found in energy drinks. Young people need to be educated on this. Digital storytelling is one creative, art based method that can catch the attention of young people and thus achieve the aim of health promotion. Health professionals and policy makers need to draw attention to the caution that is to be exercised in the consumption of these drinks.
Kokoelmat