Det privata behovet av internet till sjöss
Sehlstedt, Alexander (2012)
---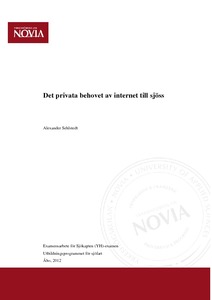 Yrkeshögskolan Novia
2012
Creative Commons Attribution 3.0 Unported
Julkaisun pysyvä osoite on
http://urn.fi/URN:NBN:fi:amk-2012102914710
Tiivistelmä
Internet blir en allt större del av våra liv för varje dag oavsett om det används privat, på jobb eller för utbildningsändamål. Mer och mer tid spenderas på internet för att web-surfa, e-handla, för bankärenden, kommunikation och för underhållning. Ny teknologi utvecklas för att erbjuda den snabba internethastigheten och kvalitet som krävs för att hålla takten med det snabbt utvecklande samhället, och samma tjänster skulle kunna erbjudas till sjöss.
En enkätundersökning har använts för detta examensarbete för att undersöka om behovet för ett snabbare och mer kvalitativt internet till sjöss finns för besättningens privata användning. Resultatet visar att majoriteten av sjömännen i denna undersökning är missnöjda med internetuppkopplingen ombord på de olika fartygen. En stor del kan även tänka sig byta arbetsplats eller säga upp sig för att få bättre tillgång till privat internet på arbetsplatsen.
Teknologin för förbättringen av internet i den maritima industrin finns redan på marknaden och den behöver bara implementeras. Enligt några kommentarer från respondenterna i denna undersökning så verkar den ekonomiska aspekten vara viktigare för rederierna än personalens trivsel ombord. Användningen av privat internet till sjöss gör att besättningen kan fortsätta vara en del av livets cirkel vilket skapar en trivsam atmosfär på arbetsplatsen och leder till effektivitet. Att förbättra hastigheten på internet ombord borde slutligen ligga i rederiernas egna intresse.
Internet becomes a bigger part of our lives by every day, no matter if it's used for private purposes, at work or while studying. More and more time is spent on the Internet on activities like web surfing, shopping, Internet banking, communication and entertainment. New technologies are developed to offer the fast Internet speed and quality that is needed to keep up the pace with the fast-developing society, and same services should be offered at sea as well.
A survey was used as a method for this report to show if the need of faster and more qualitative Internet at sea for the crew's private use on board is needed. The result shows disturbing facts like for example, the majority of the crew is unhappy with the Internet on board different ships. A big part of the crew even consider to change their working places or even quit their jobs in order to get better access to the Internet for private use.
The technology that is required to improve the quality of Internet on board is already on the maritime market and it just needs to be implemented. According to some comments send by the respondents of this survey, the economical aspect seems to be more important for the shipping companies than the crew's well-being on board. The use of private Internet at sea keeps the crew connected to their lives home, creating a pleasant working environment, which leads to efficiency. To improve the quality of Internet on board should ultimately be in the interest of the shipping companies.
Kokoelmat