Huom! Theseus-tuen yhteydenotto on poissa käytöstä teknisten huoltotöiden takia 11.–15.10.2019. Ongelmatilanteessa ota yhteyttä oman ammattikorkeakoulun kirjastoon. Attention! Theseus Support e-mail is out of use 11.–15.10.2019. In case of problems please contact your own UAS Library. OBS! Theseus Support e-post är ur användning 11.–15.10.2019. Om du har problem, vänligen kontakta ditt eget UAS-bibliotek.
Wohls gård : Historik och vårdplan för trädgårdsanläggningen
Grande, Ingrid (2012)
---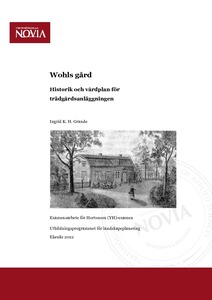 Yrkeshögskolan Novia
2012
All rights reserved
Julkaisun pysyvä osoite on
http://urn.fi/URN:NBN:fi:amk-2012111515387
Tiivistelmä
Examensarbetet innehåller en historisk utredning och vårdplan för trädgårdsanläggningen på Wohls gård i Kyrkslätt. Arbetets syfte är att ge ett underlag för beslut om framtida skötsel och restaurering av trädgårdsanläggningen. Området skall i framtiden användas för uthyrning till privata sällskap så väl som andra kultur-, utbildnings- och fritidsändamål.
Källorna för Wohls gårds historik har huvudsakligen varit litteratur, kartor, fotografier samt videotejpade intervjuer samlade från olika arkiv. I arbetet med vårdplanen har det dessutom gjorts fältundersökningar i perioden maj till november 2011.
I arbetet redogörs för formella krav, skötselråd och riktningslinjer som gäller vid bevarande av gamla parkers historiska och miljövårdsmässiga värden. Dessutom beskrivs den historiska formträdgården och historiska alléers värden och vård.
Vårdplanen presenterar Wohls gårds historia med fokus på den sannolikt ursprungliga trädgårdsanläggning som finns på en karta och ritning från 1800-talet. Med utgångspunkt från nuläget ges därefter rekommendationer för framtida åtgärder, som rangordnas efter hur viktiga eller brådskande de är.
Visionen för vården och restaureringen av trädgårdsanläggningen skall enligt detta vara att förena de kulturhistoriska och naturmässiga värdena i parken.
1800-talets planering skall vara huvudbasen och idealet. Det skall ändå samtidigt också accepteras och synas att tiden och naturen har haft sin gång.
The thesis contains a review of the history of the park at Wohls estate in Kyrkslätt and a conservation management plan for the premises. The objective is to offer a sound base for the decision-making about the future maintenance and restoration of the gardens. Wohls estate is intended to be let out for private functions as well as other cultural, educational and leisure activities.
The historic review is based upon studies of literature as well as historic maps, photos and videotaped interviews sourced at several archives. Field surveys have been carried out at intervals between May and November 2011.
The thesis presents standards and sound principles for conserving the historical and environmental values of an old park. The significance and maintenance of historical gardens and avenues are also described.
The historic review of the conservation management plan focuses on the presumed original gardens, which date back to the turn of the 19th century. The current situation is outlined and recommendations for future work are ranked
according to their importance and urgency.
According to the conservation management plan, the vision for the maintenance and restoration of the premises is to combine the park's cultural, historical and environmental values. The 19th century garden plan will be the main basis and ideal. Nevertheless, the influence of time and nature will be respected and exposed.
Kokoelmat