Fördelar och nackdelar med tidig hemgång : en teoretisk studie om fördelar och nackdelar med tidig hemgång från sjukhus efter förlossning
Rynéus, Linnéa (2012)
---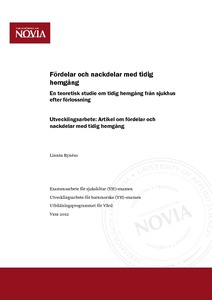 Yrkeshögskolan Novia
2012
All rights reserved
Julkaisun pysyvä osoite on
http://urn.fi/URN:NBN:fi:amk-2012112316150
Tiivistelmä
Syftet med detta kvalitativa teoretiska examensarbete är att ta fram fördelar och nackdelar ur tidigare forskning om tidig hemgång inom 48 timmar från sjukhus efter förlossning. Studien ska ge en mer nyanserad bild och en möjlighet att bilda sig en uppfattning om tidig hemgång samt visa på områden som behöver studeras vidare. Examensarbetet ska besvara frågorna: Vilka fördelar finns med tidig hemgång efter förlossning och vilka nackdelar har tidig hemgång efter förlossning? Examensarbetets metod är litteraturstudier med översiktsartikel. De 26 forskningsartiklarna redovisas i en resumé och analyseras med induktiv innehållsanalys. Som teoretiska utgångspunkter används Moderskap av Mercer, Vårdrelation av Peplau och Orlando samt Välbefinnande av Kolcaba. I den teoretiska bakgrunden presenteras statistik över vårddygn, förlossningens eftervård, barnsängstiden och Internationella barnmorskeförbundets antaganden.
I resultatet framkom sex kategorier om Fördelar med tidig hemgång: positiv inverkan på amning, bra upplevelse av vården, emotionellt välmående, samhörighet inom familjen, fysiskt välmående för mor och barn samt kostnadseffektivitet. Nackdelar med tidig hemgång gav fyra kategorier: negativ inverkan på amning, brister i den postnatala vården, sjukdom och död bland nyfödda samt trötthet och brist på vila. Det framkom även många resultat som visade att det inte finns signifikanta skillnader mellan tidig hemgång och längre sjukhusvård, vilket presenteras i kategorin "Övriga resultat" i kategorierna: amning, mors fysiska och psykiska hälsa, nyföddas hälsa samt nyblivna mödrars syn på tidig hemgång. Den vård och det stöd som man får påverkar om tidig hemgång ger mer fördelar eller nackdelar.
The purpose of this qualitative theoretical thesis is to present advantages and disadvantages found in previous research on early discharge, within 48 hours, from hospital after childbirth. The study is intended to provide a more nuanced picture and an opportunity to form an opinion about early discharge and show the areas that need further study. The thesis will answer the following questions: What are the benefits of early discharge after childbirth and what are the disadvantages? The thesis method is literature studies with an overview article. The 26 research articles are presented in a review article and analyzed using inductive content analysis. The theoretical starting points are Maternity by Mercer, Nursing relationship by Peplau and Orlando, and Comfort by Kolcaba. The theoretical background presents statistics on days of care, care after labour, puerperium and the position statements of the International Confederation of Midwives.
The results revealed six categories of advantages of early discharge: Positive impact on breastfeeding, good experience of care, emotional well-being, togetherness within the family, physical well-being of mother and child as well as cost effectiveness. Disadvantages of early discharge resulted in four categories: Negative impact on breastfeeding, deficiencies in the postnatal care, disease and death among newborns as well as fatigue and lack of sleep. It also revealed many results showing that there are no significant differences between early discharge and longer hospital care, which is presented in the section "Other results" with the following categories: Breastfeeding, mother's physical and mental health, newborn's health, and new mothers' views on early discharge. The care and support you get influence whether early discharge provides more advantages or disadvantages.
Kokoelmat