Stöd av likställda - en möjlighet till ömsesidigt stöd för ungdomar med muskelsjukdom : Utveckling av en enkät som mäter hur stöd av likställda påverkar den psykosociala funktionsförmågan
Oldenburg, Annika; Fagerholm, Natalie (2012)
---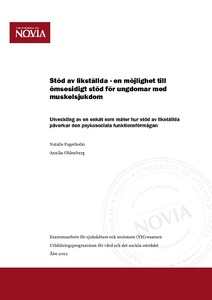 Oldenburg, Annika
Fagerholm, Natalie
Yrkeshögskolan Novia
2012
All rights reserved
Julkaisun pysyvä osoite on
http://urn.fi/URN:NBN:fi:amk-2012112316145
Tiivistelmä
Syftet med examensarbetet är att utveckla en mätare som mäter hur stöd av likställda påverkar den psykosociala funktionsförmågan hos ungdomar med muskelsjukdomar. Det är ett beställningsarbete av Muskelhandikappförbundet genom projektet T.A.G. i livet, och är ett mångprofessionellt pararbete. Arbetet är delvis en litteraturstudie som kartlägger begreppen psykosocial funktionsförmåga och stöd av likställda. Litteraturdelen redogör också för mätning av psykosocial funktionsförmåga. Ungdomars utveckling och speciellt kroniskt sjuka ungdomars behov av stöd har också tagits upp som en del av litteraturdelen, eftersom de är målgruppen för arbetet.
Stöd av likställda antas ha en positiv inverkan på den psykosociala funktionsförmågan. Mätaren har utvecklats i formen av en enkät i två delar som testas på en av Muskelhandikappförbundets anpassningskurser. Den första delen fungerar som en kartläggning av respondentens psykosociala funktionsförmåga och sociala nätverk, medan den andra delen mäter hur stöd av likställda påverkat den psykosociala funktionsförmågan under kursen. Enkäten mäter kursdeltagarnas upplevelser under kursen, och utgår från kursdeltagarnas egen bedömning av sin situation. Enkäten korrigeras efter testningen och även en manual till enkäten framställs. Enkätsvaren används för att revidera och förbättra enkäten. Enkätsvaren understöder delvis vår litteraturdel som visar att stöd av likställda har en positiv inverkan på den psykosociala funktionsförmågan. Enkätens möjligheter att ytterligare utvecklas och dess användningsmöjligheter diskuteras i slutet av arbetet.
The aim of this thesis is to develop a measuring tool for the measurement of the effects of peer support on psychosocial functioning during courses arranged for adolescents with muscular diseases. The work has been commissioned by Lihastautiliitto and is a part of the project "T.A.G. I livet". It is a multiprofessional teamwork. The thesis consist of an compilation of theory relating to peer support and psychosocial functioning, also focusing on and adolescent development and on how to measure psychosocial functioning. The theory also focuses on adolescents with chronic illnesses and their need of social support.
Peer support seems to have a positive effect on psychosocial functioning, according to literature on the subject. The measuring tool was developed in the form of a survey that was tested during a course arranged by Lihastautiliitto. The survey was made into two parts. Part one is to be used before the course starts, as a mapping of the adolescents' psychosocial functioning and their social network. Part two is to be used after the course and it measures the effects of peer support on the psychosocial functioning, focusing on the experiences of the adolescents during the course. The survey was revised after the testing and a user's manual was also made. The received answers were only used to improve and revise the survey. The answers confirmed, in part, the assumption that peer support can have a positive effect on psychosocial functioning. The possibilities of further development of the survey and the using of it, is discussed at the end of the thesis.
Kokoelmat