Dagverksamhet för äldre : -en projektbeskrivning
Knip, Maria (2012)
---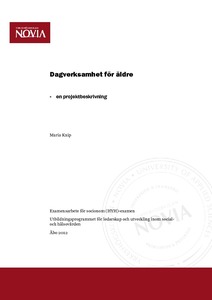 Yrkeshögskolan Novia
2012
All rights reserved
Julkaisun pysyvä osoite on
http://urn.fi/URN:NBN:fi:amk-2012112516294
Tiivistelmä
Dagverksamhet erbjuder ett intressant men relativt okänt forskningsområde. Den ökande åldrande befolkningen gör att kommunerna står inför nya utmaningar beträffande framtidens äldreomsorg. Att stödja de äldre att bo hemma är ett av de
viktigaste målen inom äldreomsorgen nationellt. I Mariehamns stads äldreomsorgsprogram 2008-2030 finns 90 %- målet, vilket betyder att 90 % av de som fyllt 75 år ska bo kvar hemma. Dagverksamhet är komplext med många syften och har en stor betydelse för många människor. Det är även är en vårdform som
behöver utvecklas i och med framtidens utmaningar, eftersom dagvård enligt forskning kan förlänga hemmaboende och öka livskvaliteten för de äldre. Mitt arbetsrelaterade utvecklingsarbete är ett beställningsarbete från Mariehamns
stads äldreomsorg som jag gör i form av ett projekt. Syftet med mitt utvecklingsarbete är att planera och utforma en ny dagverksamhet i Mariehamn. I mitt arbete tar jag reda på vad dagverksamhet är, hur man skapar en dagverksamhet samt vilka positiva effekter deltagandet i dagvård har för de äldre.
Metoderna jag använder mig av är litteraturstudier, studiebesök samt bearbetning av informationen tillsammans med en på min arbetsplats utsatt referensgrupp. Målet med dagverksamhet är att bryta isolering och skapa en meningsfull tillvaro för deltagarna, erbjuda avlastning för närstående samt tillhandahålla god vård. Besökarna får socialt umgänge och får njuta av måltider tillsammans med andra, samt kan nå förbättringar i funktionsförmågan via rehabilitering och
gruppaktiviteter. En positiv verkan med gruppaktiviteter är att de kan skjuta upp de äldres behov av institutionsboende och är därför även effektiva ur ett ekonomiskt långsiktigt perspektiv.
Day care for the elderly is an interesting but relatively unknown area of research. The ageing population provides a challenge for the municipalities in the future with regard to care of the elderly. Support for the elderly to live at home is one of the most important aims for elderly care nationally. In Mariehamn town´s plan for elderly care there is a 90 % target which means that 90 % of those who are 75 years or older should live at home. Day care for the elderly is complex with many aims and it is of significant importance for many older people. It is a form of care which needs to be developed in order to meet the challenges of the future, because day care can according to research extend the time that the elderly live at home, as well as increasing their quality of life. My work-related research is a project that has been assigned to me from Mariehamn town´s elderly care department. The purpose of my research is to plan and design a new day center in Mariehamn. In my research I investigate what is
day care for the elderly, how one creates a day center as well as the positive effects that attending the day center might bring. The methods I use are literature studies, visits to other day centers as well as discussions with a reference group of selected work colleagues. The aim of daycare is to prevent isolation, contribute to a meaningful life for the
participants, to provide relief for relatives and to give a good quality of care. The participants get to socialize with others, eat meals together as well as improving their functional capacity via rehabilitation and organized group activities. A positive effect of the group activities is that they can defer the elderly from entering institutional care and therefore economically effective in the long therm.
Kokoelmat