karisgossarna.fi : En webbcommunity
Söderlund, Tommy (2012)
---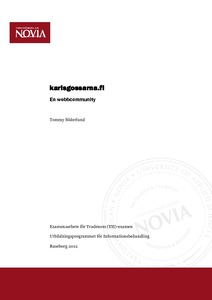 Yrkeshögskolan Novia
2012
All rights reserved
Julkaisun pysyvä osoite on
https://urn.fi/URN:NBN:fi:amk-2012112616578
Tiivistelmä
Detta examensarbete är ett webbutvecklingsprojekt av en webbcommunity, enligt traditionell metod för webbutveckling. Arbetet gjordes som ett beställningsarbete åt scoutrörelsen Karis Gossarna r.f.. Denna webbcommunity är ämnad att dels förbättra kommunikationen medlemmar, ledare och styrelsen emellan och dels tillföra mer aktuell medlemsinformation i medlemsregistret genom att sporra medlemmarna att själva fylla i sin medlemsinformation på webbcommunityn. CMS-systemet som används som bas för webbcommunityn är Drupal 6.
Kraven på webbcommunityn var bla. sökfunktion, dokumentarkiv, fotogalleri, medlems- samt styrelseforum, profilsidor för användare, kommentarsmöjlighet på profilsidor, galleri för användare, "Wall", gästbok samt en chatt en månatlig epostrapportering. Ytterligare skall webbsidan hittas av Google samt på webben fungera som en informationskanal som Karis Gossarna själva kan uppdatera.
En del av de ursprungliga önskemålen lämnades bort i förverkligandet av olika orsaker. Resultatet av utvecklingen anser jag ändå blev lyckat, då all övrig önskad funktionalitet levererats.
This thesis is the web development of a web community, developed through traditional methods for web development. The thesis was done as an order to the scout movement Karis Gossarna r.f.. This web community is intended to improve the communication between members, leaders and the administration as well as enable the member register to be more up to date through encouraging members to update their member information themselves through the web community. Drupal is the CMS system that is used as a base for this Web Community.
The requirements and the functionality that is sought include: search function, document archive, photo gallery, member and administration forums, user profile pages supporting comments, user photo gallery, "Wall", guestbook, a chat and a monthly report sent by email. Additionally, the web page should be found by Google and on the web function as an information channel, which Karis Gossarna r.f. themselves can update.
Some of the original optional requirements were for various reasons not implemented in the realization of this web community. Personally, I feel that the overall result of the development was a success, since the rest of the functionality was delivered.
Kokoelmat