Val av produktkalkyl i ett tillverkande företag
Ekroos, Johan (2021)
---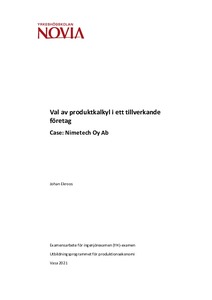 2021
All rights reserved. This publication is copyrighted. You may download, display and print it for Your own personal use. Commercial use is prohibited.
Julkaisun pysyvä osoite on
http://urn.fi/URN:NBN:fi:amk-2021060414383
Tiivistelmä
Behovet av produktkalkyler finns inom alla branscher. Det är viktigt som företagare eller stat att veta vad för kostnad en produkt eller en tjänst har, för att senare bestämma ett försäljningspris. Med hjälp av produktkalkylering fås en bättre överblick vilka kostnaderna är samt var och hur de uppstår.
Syftet med arbetet var att bestämma ett försäljningspris till en materialklipp som ska tillverkas av företaget Oy Nimetech Ab. Två olika produktkalkyler har använts för att visa skillnaderna på val av produktkalkyl samt för att få ett försäljningspris åt företaget. I arbetet beräknas två kalkylobjekt, eftersom materialklippen kommer att tillverkas i två olika modeller: plast och metall.
Valet av produktkalkylerna har gjorts utifrån den teori som tillämpats i arbetet. Kostnaderna för kalkylobjekten har samlats in genom kvalitativ och kvantitativ metod för att sedan delas upp i fördelningsnycklar. Fördelningsnycklarna sattes in i valda produktkalkyler för att sedan jämföras med ett uppskattat försäljningspris av företaget.
Resultatet från produktkalkylerna visar ett högre försäljningspris än vad företaget hade från början uppskattat och gav därmed ett nytt försäljningspris för materialklippen.
The need for product costings exists in all industries. It is important as an entrepreneur or state to know what cost a product or service has, to later determine a selling price. With the help of product costings, you get a better overview of what the costs are and where and how they arise.
The purpose of the work was to determine a sales price for a material shredder that will be manufactured by the company Oy Nimetech Ab. Two different product costings have been used to show the differences in the choice of product calculation and to get a sales price for the company. The study consists of two cost objects that are calculated since the material shredders will be manufactured in two different models: plastic and metal.
The choice of the product costing has been made based on the theory applied in the study. The costs for the cost objects have been collected through qualitative and quantitative methods and then sorted into distribution keys. The distribution keys were inserted into selected product costings and then compared with an estimated sales price done by the company.
The result of the product costing shows a higher sales price than what the company had initially estimated and thus gave a new sales price for the material shredders.
Kokoelmat