Inclusion and diversity management in education and work-life: a slogan or a true process?
Chydenius, Tarja (2021)
---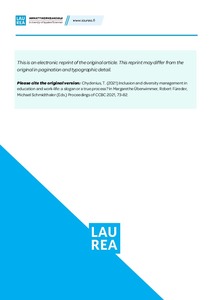 Chydenius, Tarja
Editoija
Überwimmer, Margarethe
Füreder, Robert
Schmidthaler, Michael
Shaker Verlag
2021
Julkaisun pysyvä osoite on
http://urn.fi/URN:NBN:fi-fe2021061738293
Tiivistelmä
Major demographic and generational changes, massive digitalization, open access policies and an increased need for widening participation are changing the landscape for tertiary level students as well as future knowledge intensive and managerial level experts. Many higher education institutions (HEI) have taken efforts to increase inclusion in order to cater for increasingly diverse students and work-life needs. HEIs seem to be at the forefront of adopting an inclusive mindset and managing student diversi-ty (Claeys-Kulik, Ekman Jørgensen & Ströber 2019). Many initiatives have also been taken in work-life, but there is currently no clear understanding of what the status of diversity management is in the labor market.
The study sets out to explore and compare how employer organizations have adopted an inclusive mindset by reviewing the organizations' self-reported activities on their websites. The benchmark in-cludes major employers and largest private companies by turnover in four selected geographical areas, with ten organizations from each region (Birmingham, Cologne, Helsinki, Linz). The observation of in-clusion and the status of diversity management (IDM) is based on the diversity management scale out-lined by Langholz (2014). The data were gathered quantitatively from existing documentation on www-pages. The analysis was based on an applied thematic analysis through categorizing similar themes as outlined by Guest, MaQueen & Namey (2012).
The study reveals that HEI's may, indeed, be regional forward-thinkers in dealing with IDM issues. The organizations' websites demonstrate that, although still taking a predominantly deficit-oriented approach and being impregnated by economic arguments, several employers already have or were aiming at taking a strategic approach towards diversity management. More research is needed to understand the wider phenomenon in order to be able to define needed IDM competence and to meet the work-life needs of graduates.
Kokoelmat