Barn och ungas upplevelse av "problemfamiljen" - en kvalitativ studie om upplevelsen av att växa upp som barn till en förälder med mental ohälsa och dess följder
Stén, Madeleine (2021)
---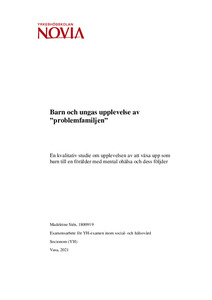 2021
All rights reserved. This publication is copyrighted. You may download, display and print it for Your own personal use. Commercial use is prohibited.
Julkaisun pysyvä osoite on
https://urn.fi/URN:NBN:fi:amk-2021111920753
Tiivistelmä
Arbetet behandlar upplevelsen av att växa upp som barn till en förälder men någon form av psykisk ohälsa. Det undersöks hur upplevelsen påverkar individens vardag och liv som vuxen, med andra ord, följderna av att lida av mental ohälsa i andra hand. Till sist bearbetar även arbetet hur samhället kan hjälpa individerna som är påverkade och om samhällets hjälp är tillräcklig. Syftet med arbetet är att undersöka de psykiska sjukdomarnas påverkan på människorelationer och hur det påverkar den påverkade individen senare i livet. Arbetet har utförts genom en kvalitativ metod med hjälp av intervjuer. Arbetet presenterar tidigare forskning om psykiska sjukdomar som påverkar människorelationer. Arbetets slutresultat bygger på kommentarer och sammanfattningen från respondenternas svar i intervjuerna. Enligt de intervjuades svar tyder det på att människor med erfarenheter av mental ohälsa inom sin närfamilj påverkas så pass mycket att de själva får mentala problem som vuxen. Respondenternas svar pekar också på att den mentala ohälsan syns inte lika tydligt som de fysiska nedsättningar man kan lida av och den psykiska ohälsan blir en blind punkt för samhället och därför är hjälpen otillräcklig.
This work examines the experience of growing up as a child to a parent with some type of psychiatric disorder or mental illness. It accounts for how the experience affects the individuals' day to day life as an adult, in other words, the consequences of suffering from mental illness in an indirect way. Lastly it also examines how society can help the affected individuals' who suffer and if the help is adequate. The purpose of this work is to examine the psychiatric disorders influence on human relationships and how that affects the influenced individual later in life. The work has been executed by using a qualitative method using interviews. The work's conclusion consists of the commentary and the summary from the respondents' answers in the interviews. The works results tell us that people who have experienced mental health illnesses in their family are influenced so much that they themselves get mental health problems as adults. The respondents' answers' also points to that mental health issues are not as noticeable as the physical problems that a person can suffer from, and that the mental health issue is a blind spot for society and that is why the help efforts are also inadequate.
Kokoelmat