Ung och intresserad av pensionen : en jämförelseundersökning av frivillig pensionssparande
Rankala, Markus (2009)
---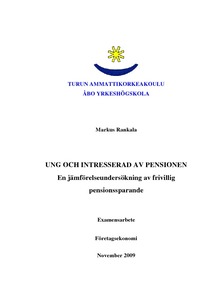 Turun ammattikorkeakoulu
2009
All rights reserved
Julkaisun pysyvä osoite on
http://urn.fi/URN:NBN:fi:amk-200911195696
Tiivistelmä
Målet med detta arbete var att utreda hurdana kostnader frivilliga pensionsförsäkringar har och hur de byggs upp. Den viktigaste frågan som strävades få svar på var vilket av de fyra utvalda pensionsförsäkringserbjudanden skulle ge den största nettopensionen.
I arbetet förklaras också hur en pensionsförsäkring fungerar och hur den beskattas samt presenteras hurdana förvaltnings-, placerings- och underhållningsavgifter debiteras.
I undersökningsdelen presenterades olika sätt hur en avkastning mäts i en pensionsförsäkringsfond samt dess beskattningsgrund. Forskningen gjordes genom att be fyra likvärdiga pensionsförsäkringserbjudanden och samla material från pensionsförsäkringsbolagens broschyrer.
Genom undersökningen kom fram att det lönar sig att ägna litet tid på att utreda hurdana kostnader bolagen debiterar i sina pensionsförsäkringar och på det sätt spara betydligt på olika kostnader som äter på avkastningen och den insparade pensionen.
The purpose of this thesis was to clarify what costs voluntary pension insurances have. The key point was to find out which of the four chosen pension insurances gives the biggest net pension.
The case study explains how a pension insurance is structured and how it is been taxed in Finland. The study also presents what kind of management, investment, administrative and depositing fees are debited.
The survey researched what kind of costs pension insurance companies debit. There where also presented how the profit rate is calculated and how the taxation works.
The case study was carried out through four similar pension insurance offers and material from the pension insurance companies' brochures.
In the study was found out that it is reasonable to spend little extra time on checking what kind of costs the companies charge in their pension insurances and thus to get a better profit and save a noticeable amount of money.
Kokoelmat