Planering och utförande av seminariet Fokus på Östnyland
Lökström, Charlotta; Wahlström, Emma (2012)
---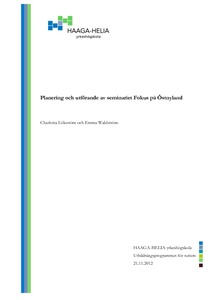 Lökström, Charlotta
Wahlström, Emma
HAAGA-HELIA ammattikorkeakoulu
2012
All rights reserved
Julkaisun pysyvä osoite on
http://urn.fi/URN:NBN:fi:amk-2012112917376
Tiivistelmä
Arrangörerna och skaparna av seminariet "Fokus på Östnyland" är Charlotta Lökström och Emma Wahlström. I lärdomsprovet beskriver arrangörerna ingående hur planeringen av seminariet "Fokus på Östnyland" framskred och förverkligades. Arbetet kring seminariet började i februari 2012 och gick av stapeln måndagen 16.4.2012. I lärdomsprovet beskrivs seminariet från planering till förverkligande.
Fokus på Östnyland hölls på Borgå Campus på Konstfabriksgatan 1 i Borgå. Campuset blev klart under våren 2011 och många evenemang har redan ägt rum där. Campuset valdes som upplevelserum eftersom det kändes naturligt då uppdragsgivaren befann sig vid HAAGA-HELIA:s Borgå enhet i Borgå campus. Aulan i campuset där seminariet gick av stapeln är dessutom väldigt ljus och öppen och lämpade sig därför utmärkt för seminariet. Huvudmålet med seminariet var att informera besökarna om de möjligheter Östnyland har att erbjuda, samt att skapa en något positivare attityd för finlandssvens-kar.
I lärdomsprovet beskrivs de olika skedena i planeringsprocessen som arrangörerna gått igenom under utvecklandet av seminariet. Första skedet i processen är då man utvecklar den så kallade definitionsfasen. Under definitionsfasen svarar man på frågor som vad, var, varför, när och för vem. Därefter följer planeringsskede då man planerar och förbereder allting noggrant inför det kommande evenemanget. Denna fas utgör 75 % av hela processen. Efter detta kommer genomförande stadiet då själva evenemanget tar plats och detta skede är mycket beroende av hur väl planeringsskedet lyckades. Utvär-dering och efterarbetet, som består av att man skickar ut tack brev och går genom feedback man fått angående seminariet är det sista skede.
Seminariet "Fokus på Östnyland" lockade 150 besökare och såväl arrangörerna som besökarna ansåg att seminariet var lyckat.
The objective of this graduation project was to organize a Swedish seminar called "Fokus på Östnyland", i.e. focus on Eastern Uusimaa. This thesis thoroughly describes, from the beginning to the very end, how the seminar was planned and implemented by Charlotta Lökström and Emma Wahlström. The seminar planning work began in February 2012 and the actual seminar was held on Monday 16 April 2012.
The seminar was arranged on Porvoo Campus, which is located near the city centre close to the river. The new campus was completed in spring 2011 and represents a new kind of learning and competencies centre. The campus lobby is an open and bright area and the choice of the place felt natural as the commissioner of the project work also was located on the very same premises. The main purpose of the seminar was to inform the visitors of opportunities that Eastern Uusimaa has to offer, and to try to form a slightly more positive attitude towards Swedish-speaking Finns.
The thesis thoroughly describes the different stages that the organizers have gone through during the process of planning the seminar. The theoretical framework is based on literature on event planning. The first stage in the planning process is the definition stage, which answers the questions why, what, when, where and for whom. The next stage in the process is the planning stage, where all the preparations for the event are made and the upcoming event is being planned. The planning stage represents 75% of the whole process. The third stage is the implementation stage, where the event is being held. This stage is highly dependent on how the planning stage succeeded. The final stage is when thank-you letters are sent and feedback is received. Only then is the project finally terminated.
"Fokus på Östnyland" was a successful seminar, both the organizers and visitors were satisfied. The seminar offered a versatile programme and attracted some 150
visitors.
Kokoelmat