Motionsformer som främjar funktionsförmågan hos personer med intellektuell funktionsnedsättning
Uddström, Mymlan (2012)
---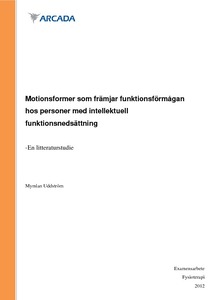 Arcada - Nylands svenska yrkeshögskola
2012
All rights reserved
Julkaisun pysyvä osoite on
https://urn.fi/URN:NBN:fi:amk-2012121919993
Tiivistelmä
Studiens syfte var att undersöka vilka motionsformer som främjar funktionsförmågan hos personer med intellektuell funktionsnedsättning. Frågeställningen besvaras genom en systematisk litteraturstudie. Genom litteratursökning i databaser hittades 14 relevanta artiklar som sedan kvalitetsgranskades med en modifierad version av kvalitetsgransk-ningen som Forsberg och Wengström (2008) tar upp i sin bok. Fynd hittades som stöder
kombinerad styrke- och aerobiskträning. Resultaten tyder på att just denna motionsform stärker muskelstyrkan och den aerobiska konditionen. Balansträning innehållande olika hoppkombinationer tillsammans med rörelseträning på olika stabila underlag, visar sig vara effektivt. Den optimala motionsformen skulle kunna vara kombinerad styrke- och aerobisk träning tillsammans med balansövningar, för att främja en större del av funkt-ionsförmågan på samma gång. Att utesluta är inte heller den nyinkomna motionsträ-ningen som tv-spel av olika form, för med sig. En träningssession skulle kunna vara ca 30 minuter lång och utföras 2 till 3 gånger i veckan.
The aim of this study is to investigate which form of exercise training that promotes func-tional capacity of people with intellectual disability. A systematic literature review was chosen as the method to investigate the questions of research . 14 relevant articles vas in-cluded in this thesis and the quality was assessed by a modified checklist assessed by Forsberg and Wengström (2008). Findings supports
combined aerobic and resistance exercise training. The results suggest that this particular form of exercise strengthens muscles and improves aerobic fitness. Balance training con-taining different jump combinations with movement training on different stable surface, proves effective. The optimal form of exercise could be combined strength and aerobic exercise with some balance exercises, to cover a greater proportion of physical function at the same time. To exclude is also not the modern exercise training that video games of various shapes presents. A training session could be about 30 minutes and is carried out 2-3 times weekly.
Kokoelmat