Kostnadskontroll i en lunchrestaurangkedja : Case studie Food Ab
Liljendal, Stefanie (2012)
---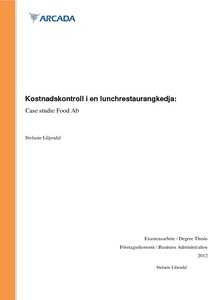 Arcada - Nylands svenska yrkeshögskola
2012
All rights reserved
Julkaisun pysyvä osoite on
http://urn.fi/URN:NBN:fi:amk-2012122020168
Tiivistelmä
Food Ab är ett fiktivt namn för ett verkligt företag. Namnet på det undersökta företaget, dess anställda, dess restauranger och nämnda samarbetspartners har ändrats för att skydda företagets identitet.
Food Ab är ett företag inom restaurangbranschen som har flera lunchrestauranger. Detta arbete är ett beställningsarbete för Food Ab, och undersöker kostnadskontrollen av rå-varor i företagets lunchrestauranger. Dessutom undersöks företagets rapporteringskedja av kostnader och inkomster inom organisationen. Syftet med arbetet är att komma fram med möjliga förbättringsförslag gällande deras rapporteringskedja och kostnadskontroll av råvaror. Detta görs med referens till teori och de strategier en av företagets mest lön-samma restauranger använder sig av. Arbetet avgränsas till kostnadskontroll av råvaror. De restaurangerna med högre lönsamhet än den undersökta restaurangen Star utesluts från arbetet, eftersom restaurangernas inkomster och kostnader är sammanknutna.
Undersökningen använder sig av en kvalitativ forskningsmetod. Med hänvisningar till valda teoretiska referensramar undersöks möjliga utvecklingsmöjligheter. Primärdata samlas in genom observation av företagets bokföring och intervju med nyckelpersoner som deltar i företagets kostnadskontroll. Som sekundärdata används facklitteratur som handlade specifikt om kostnadskontroll inom livsmedelbranschen.
Intervjuerna med köksmästaren för restaurangen Star, restaurangchefen och företagets verkställande direktör presenteras i empiridelen. Likaså presenteras insamlad empiri från observation av rapporteringskedjan. Vid analys av insamlad data kommer det fram att nyckelpersonerna delar syn på kostnadskontrollstrategier. Deras syn skiljer sig dock delvis från teoretisk ideal. I analysen kartläggs rapporteringskedjan. Också de brister undersökningen kommer fram med presenteras. Med hänvisning till teoretisk ideal pre-senteras i slutsatsen rekommendationer för företaget. Rekommendationernas syfte är att företaget skall kunna förbättra deras kostnadskontroll av råvaror och deras rapporte-ringskedja.
Food Ab is a fictive name for a real company. The name of the studied company, names its employees, restaurants and co-operatives, have been changed to protect the identity of the company.
Food Ab is a company in the food industry that has many lunch restaurants. This degree thesis is commissioned by Food Ab, to study their cost control of raw materials in their lunch restaurants. Their chain of reporting costs and income within the company is also studied. The goal of the study is to find possibilities to improve their chain of reporting and their cost control of raw materials. This is done by referring to theory and the strate-gies used by one of the best restaurants of the company. The study is confined to cost control of raw materials. The restaurants with higher profitability than the studied restau-rant Star are excluded from the study, because their income and costs are tied together.
The study is conducted with a qualitative research method. Possible opportunities of de-velopment are studied by referring to the theoretical frames of reference. Primary data is collected through observation of the company's accounting and interviews with key per-sons that contribute to cost control. Literature that specifies in cost control within the food industry will be used as secondary data.
The interviews with the head chef of restaurant Star, the chief of restaurants and the ex-ecutive director are presented in the part with empiricism. The gathered empiricism about the chain of reporting through observation will also be presented. One can conclude that the key persons share the same view on cost control strategies, when analyzing the gath-ered data. Still, their views differ partially from theoretical ideal. The chain of reporting is mapped out in the analysis. The shortcomings that the study revealed are presented as well. With reference to theoretic ideal, recommendations to the company are presented in the deduction. The purposes of the recommendations are to improve the company's cost control of raw materials and their chain of reporting.
Kokoelmat