Ryanair : En studie om lågprisbolagets framgång och utveckling i Europa
Stenbacka, Jonas (2009)
---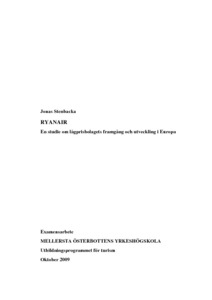 Keski-Pohjanmaan ammattikorkeakoulu
2009
Creative Commons Attribution 3.0 Unported
Julkaisun pysyvä osoite on
http://urn.fi/URN:NBN:fi:amk-200911286392
Tiivistelmä
Syftet med detta examensarbete är att finna de faktorer som lett lågprisflygbolaget Ryanair till framgång och utveckling i den europeiska flygbranschen. Ryanair har på knappt 25 år vuxit från ett regionalt flygbolag till att bli ett av de största flygbolagen i Europa och är idag ett av de snabbast växande. Flygbolagets framgång och utveckling har även varit gynnsam i Finland och är idag Ryanair det snabbast växande flygbolaget på den finska flygmarknaden. Eftersom den europeiska flygbranschen är känd för att vara svår att få höga vinstmarginaler i och ses som överbelastad av konkurrerande flygbolag, måste det således finnas några orsaker till att Ryanair lyckats skapa stabilitet, vinst och snabb tillväxt på relativt kort tidsperiod.
Arbetet gjordes som en ämnesanalys och beskriver Ryanair ur tre synviklar; flygbranschen i Europa, flygbolagens verksamhetsstrategier och flygbolagets relation till sina passagerare. Arbetet gjordes på uppdrag av Vilhelm Hamilton, en medlem av marknadsutvecklingsteamet vid Ryanairs huvudkontor i Dublin.
Forskningsresultatet från detta arbete visar att Ryanairs tillväxt och framgång beror på en rad betydande faktorer inom flygbolagets verksamhet, såsom flygbolagets kostnadsfokusering, innovativa tänkande och rätt agerande i rätt tid. Flygbolaget har lyckats distansera sig från mängden och på så vis även skapat ett helt nytt marknadsområde i Europa.
The purpose of this thesis is to determine the factors that have led the no-frills airline Ryanair to success and rapid development on the European airline market Ryanair has in roughly 25 years grown from being a regional carrier into one of the largest airlines on the European market. The airline's success and development has also been thriving in Finland and today Ryanair is the fastest growing airline on the Finnish airline market. Since the airline business in Europe has been known to be challenging in obtaining a high level of profitability and is considered by many to have a huge surplus of competing airlines, there must be a number of reasons why Ryanair has been able to create a stability, profitability and rapid growth on a relatively short period of time.
The thesis has been done in the manners of a topical analysis and describes Ryanair through three view-points; the airline business in Europe, the operational strategies utilized by the airlines and the relation between an airline and its passengers. I have been assigned to do this research by my commissioner, Mr. Vilhelm Hamilton, a member of Ryanair's market development team stationed at Ryanair's HQ in Dublin.
The results from the research show that Ryanair's growth and success are the results from the low cost- airline's focusing on costs, innovative thinking and right timing. The airline has been successful in distancing themselves from the masses and by so even created a whole new market segment in Europe.
Kokoelmat