Konduktiv pedagogik som fysioterapimetod för barn och unga med funktionsnedsättningar : En systematisk litteraturstudie
Norrvik, Jessica (2013)
---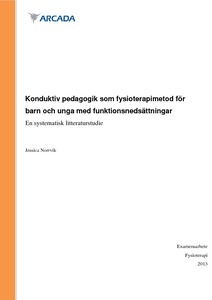 Arcada - Nylands svenska yrkeshögskola
2013
All rights reserved
Julkaisun pysyvä osoite on
http://urn.fi/URN:NBN:fi:amk-201304023839
Tiivistelmä
Konduktiv pedagogik (KP) är en holistiskt specialpedagogisk undervisningsmetod som främst riktar sig till barn och unga med funktionsnedsättningar. Genom metoden vill man utveckla barnets hela personlighet och på så vis uppnå en förbättrad funktionsförmåga. Träningen riktar sig därför till barnets fysiska, sociala, kognitiva och emotionella utveckling. Programmet leds av en så kallad conductor som kan sägas vara en sammanslagning av fysioterapeut, ergoterapeut, psykolog och lärare.
Syftet med denna systematiska litteraturstudie är att undersöka hurudan inverkan KP har på barns och ungas funktion med avseende på ICF CY. Avsikten är även att lyfta fram de delar av metoden som kunde tillämpas inom fysioterapi för barn och unga med funktionsnedsättningar. Utgående ifrån 13 kvalitetsgranskade forskningsartiklar som undersökte KP har frågeställningarna i studien besvarats.
Resultatet av forskningsartiklarna visade att KP kan förbättra barnets funktionsförmåga med avseende på aktivitet och delaktighet och har även en positiv inverkan på barnets sociala omgivning. Forskningsresultaten är tudelade angående metodens inverkan på barnets kroppsfunktion, kroppsstruktur och personliga faktorer. Det finns inte tillräckligt med bevis för att dra slutsatser om att KP är mer effektiv i jämförelse med andra terapimetoder.
Vissa delar av KP används redan inom fysioterapin och vissa delar är svåra att tillämpa. De delar av KP som kunde anpassas och beaktas inom fysioterapi för barn och unga med funktionsnedsättningar är ortofunktion, gruppträning, anpassad träningsmiljö, rytmisk intention samt holism.
Conductive education (CE) is a special education method with a holistic approach that is mainly intended for children and adolescents with functional disabilities. The purpose of this method is to develop the childs whole personality and through this obtain improved functionality. The training is therefore aimed at the physical, social, cognitive and emo-tional development. The program is led by a so called conductor who can be regarded as a blend of a physiotherapist, occupational therapist, psychologist and a teacher.
The purpose of this systematic review is to examine what effect CE has on childrens and adolescents functionality regarding the ICF CY model. The aim is also to enlighten the parts of the method which could be applied to physiotherapy for children and adolescents with functional disabilities. Based on 13 research articles that examined conductive edu-cation the research questions were answered. The quality of the articles was assessed.
The result of the research articles shows that CE can improve the childs functional capac-ity regarding activity and participation and the method also has a positive effect on the childs social environment. Concerning the methods impact on body functions, body struc-tures and personal factors the research results are divided. There was not enough evidence to claim that CE is more effective than other therapy methods.
Some parts of CE are already being used in physiotherapy whereas some parts are hard to apply. The parts of CE that could be considered and used in physiotherapy for children and adolescents with functional disabilities are orthofunction, group training, adapted training environments, rhythmical intention and holism.
Kokoelmat