Lovisa som shoppingdestination
Haddas, Mona (2013)
---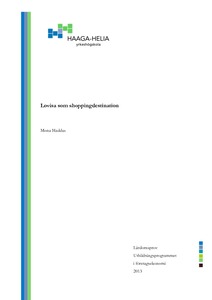 HAAGA-HELIA ammattikorkeakoulu
2013
All rights reserved
Julkaisun pysyvä osoite on
http://urn.fi/URN:NBN:fi:amk-201303253635
Tiivistelmä
Syftet med lärdomsprovet var att utreda hur Lovisa ser ut som shoppingdestination idag från detaljhandelsföretagarens och den vanliga konsumentens synvinkel, hur man kunde utveckla shopping i Lovisa, samt väcka detaljhandelsföretagarens intresse att börja utöva sin verksamhet mer marknadsföringseffektivt och turisminriktat. Undersökningsobjekten var experter som sysselsätter sig med turist- och näringsverksamheten och detaljhandelsföretagare i Lovisa stad.
Lärdomsprovets teoretiska del baserar sig på facklitteratur, internetsidor, tidigare forskningar om shoppingdestinationer och dess utvecklingsmöjligheter, shoppingturism, detaljhandel och marknadsföring inom detaljhandeln och broschyrer över bland annat sevärdheter, evenemang och aktiviteter i staden.
Den empiriska delen av lärdomsprovet utfördes som kvalitativ undersökning, som baserade sig på halvstrukturerade intervjuer. För undersökningen intervjuades tre stycken experter som på något sätt sysselsätter sig med närings- och turistverksamhet i Lovisa och tre stycken detaljhandelsföretagare. Alla intervjuer fördes ansikte mot ansikte med respondenterna och baserade sig på en förhand uppgjord frågeguide.
Resultatet av undersökningen visade att experterna och detaljhandelsföretagarna anser att Lovisa som stad skulle ha potential att utvecklas till en bra shoppingdestination. Av undersökningen framgick även att både västra infarten till staden och kärncentrum borde koordineras och utvecklas till ett område som drar till sig företagare, turister och ortsbor.
Skribenten hoppas att Lovisa stad kan använda lärdomsprovet som bas för Lovisa stads fortsatta arbete att utveckla sig till en bra shoppingdestination i framtiden. Lärdomsprovet kunde även användas som grund för fortsatta undersökningar kring ämnet i Lovisa, då man vill undersöka varför ortsborna söker sig till andra orter för att shoppa och hur man kunde lyckas få dem att köpa i affärerna på orten.
The purpose of the thesis was to investigate what Loviisa has to offer as a shopping destination today, from the retailer's and the ordinary consumer's point of view. An-other aim was to see how interest in shopping in Loviisa could be further generated, and also to evoke retailers' interest in their own businesses to more successfully manage their companies' marketing strategies and tourism influence. The objects for the research were experts involved tourism and related business activities, and retailers in Loviisa.
The theoretical part of the thesis is based on literature, Internet, previous researches of shopping destinations and development, shopping tourism, retail, and marketing. Also various brochures on local attractions, events and activities in the city were used as sources.
The empirical part of the thesis was carried out by a qualitative research method based on semistructured theme interviews. The survey comprised interviews with experts somehow active in the fields of business and tourism in Loviisa, and three retail entrepreneurs. All interviews were face to face with the respondents and were based on a prestructured interview guide.
The results of the research show the fact that retailers see the potential of further de-veloping Loviisa into an even better shopping destination. The research also indicates that both the western entrance to the city center and the core should be coordinated and developed into an area that attracts entrepreneurs, tourists and locals.
The author hopes that the Bachelor's thesis can be used as a base for Loviisa city's continuing work to develop into a good shopping destination in the future. This thesis could also be used as a base for further studies on the subject in Lovisa, when someone wants to investigate why locals seek other places to shop and what needs to be done to attract them to local shops instead.
Kokoelmat