Skogsmaskinens och förarens inverkan på drivningsskador i gallringar
Frönäs, Andreas (2013)
---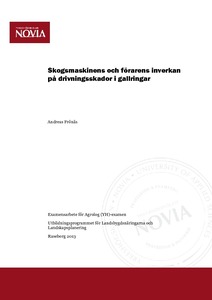 Yrkeshögskolan Novia
2013
All rights reserved
Julkaisun pysyvä osoite on
http://urn.fi/URN:NBN:fi:amk-201304234816
Tiivistelmä
Skogsmaskinsentreprenörerna pressas allt hårdare för att minimera drivningsskadorna som framförallt längs Kusten överskridit gränsen på 4 %, men måste samtidigt också utnyttja sin maskin till full kapacitet för att det skall gå ihop ekonomiskt. I Österbotten är skogarna i stort behov av första gallringar och för att de skall må bra i framtiden behöver skadorna minimeras, det är därför viktigt att få fram var skadorna uppstår.
I denna studie undersöktes om olika skogsmaskinstyper och maskinegenskaper påverkar drivningsskadeprocenten, och i vilken utsträckning förarnas ålder och erfarenhet inverkar på drivningsskadeprocenten. Undersökningen är gjord inom Österbottens kust område, från Karleby till Kristinestad. Utgående från Skogscentralens drivningsuppföljningar togs fram vilka maskiner som rört sig i gallringsbestånden samt vilka förare som suttit i maskinerna.
Resultaten visar att skadefrekvensen höjs ju större och tyngre maskiner som används i skogen. Skadeprocenten påverkas också av avverkningstidpunkt samt beståndets täthet. Optimering av maskinerna till körstråksavstånd är viktigt för att både föraren och maskinen kan kontrollera vart träden fälls. Storleken på skördaren och skotaren behöver vara ungefär lika, man får då en minimering av skadorna. Utifrån undersökningen var det svårt att fastställa om skadefrekvensen höjs med förarens erfarenhet eller ålder, betydande del av de gallringar som utförts i undersökningen är utförda av förare i erfarenhetsgruppen 11- 20 år. Det är svårt att exakt fastställa ett entydigt resultat eftersom denna erfarenhetsgrupp dominerar gallringarna som utförts.
The pressure on forest machine contractors to minimize the logging damages, is be-coming harder and harder, above all along the coast, where damages exceed the limit of 4 %. At the same time the forest machine contractors must make use of their ma-chine to full capacity so the financial part will work for them. In Ostrobothnia the for-ests are in need of first thinnings, and the logging damages need to be minimized so that the forest in future will maintain its productivity. Therefore, it is important to ana-lyze where logging damages appear.
In this study it was analyzed if different forest machines and their properties have an effect on the logging damages, and the extent to which the driver's age and experience have an effect on the logging damage percentage was also analyzed. The survey was performed in Ostrobothnia's coastal area, from Karleby to Kristinestad. The Finnish Forest Centre's logging follow-ups analyzed which machines and drivers that had performed the thinning works.
The result shows that the damage frequency increases if larger and heavier machines are used in the forest. The damage frequency is also affected by harvesting time and stock density. Optimization of the distance of the forest machines to the logging track is important for the driver and the machine; they have more control in which direction the trees are felled. The size of the harvester and forwarder needs to be about the same, then you will receive a minimization of the damage. Based on the survey it was difficult to determine whether the damages increased with driver experience or age. A considerable part of the thinnings that have been performed in the survey is per-formed by drivers in the experience group 11- 20 years. It is also difficult to determine an unambiguous result because this experience group dominates in the thinning works that have been done in the survey.
Kokoelmat